Botswana & The Okavango
BOTSWANA: WILDLIFE SPECTACULAR – The photographic wonders of the Okavango and Chobe
Saturday 4th November – Thursday 16th November 2023

Leaders: Bernd Rohrschneider and a local naturalist-photographer guide

13 Days
Group Size Limit 6
Monday 11th November – Saturday 23rd November 2024

Leaders: Bernd Rohrschneider and a local naturalist-photographer guide

13 Days
Group Size Limit 6
BOTSWANA WILDLIFE PHOTOGRAPHY TOURS WITH WILD IMAGES
Botswana is home to some of Africa's best national parks and wildlife sanctuaries and has some of its most diverse wildlife, and yet it is still less well-known as a destination for wildlife photography tours as compared with places like Kenya, Tanzania and South Africa. One reason is that the great national parks and conservation areas of Botswana are still real wildernesses that are both difficult and expensive to access.
This wonderful wildlife photosafari will take us from Maun in the southwest of the Okavango region to Kasane in the far northeast of Botswana, passing through the Moremi Game Reserve, the Khwai Concession Area, Savuti and eastern Chobe National Park as we go.
We will be staying in spacious and comfortable mobile tented camps (including proper beds and bed linen, with a private en-suite bathroom) in exclusive private campsites within the national parks and wildlife reserves, whilst travelling in our customized safari vehicle, which is open-sided with a fantastic, almost all-round view.
Now that's surely an ideal way to get to the very heart of Botswana's wildlife wonderland!
Accommodation & Road Transport
During our Botswana and Okavango photosafari we will be staying in exclusive and comfortable mobile tented camps which are specially erected for our stays in private campsites within the national parks and reserves. The tented accommodation is both spacious (walk-in height) and comfortable, and includes beds and bed linen, with a private (well side-screened, but open to the skies) en-suite bathroom and a large porch. The bedroom section of the tent is about 4m x 3m (approximately 13ft x 10ft). The camp is serviced by a safari chef and camp assistants, complete with a supply vehicle. The meals that the chef comes up with are truly remarkable, particularly given the pretty simple cooking facilities a mobile safari chef has to cope with!
Road transport is by a customized safari vehicle which is perfect for wildlife viewing and photography. These special vehicles are great for photography as they have all-round (almost 360 degrees) views and very low sides, allowing lower angle shots.  They have a roof cover in case it gets hot or rains, and even have a fridge stocked with cold drinks. The few main roads are mostly good or reasonable (but there are also plenty of rough tracks in the sanctuaries and some 'off-road' driving).
Walking

The walking effort is easy throughout our Botswana and Okavango photosafari. Walking is restricted to a few specified areas in the national parks/game reserves. This is of little hindrance and indeed we can approach many large birds and mammals far more closely in a vehicle than we could on foot.
Climate
At this season in the Okavango and Chobe regions of Botswana, most days will be warm or hot, dry and sunny, but overcast conditions are fairly frequent and there may well be some rain.
Photographic Equipment
During Botswana wildlife photography tours, the most used telephoto lens focal lengths with a full-frame DSLR or mirrorless are usually between 200-600 mm (sometimes even longer is useful). Do not neglect the mid-range telephoto area (150-300 mm) as many subjects are large and/or approachable, or in groups.
Botswana has few panoramic views and so ultra-wide-angle is only occasionally useful (but this does not apply at Victoria Falls, where it is good to have the focal lengths 16-24 mm covered). Of more use is to cover the range 24-70/100 mm.
All the focal lengths mentioned above relate to full-frame cameras. Please adjust as appropriate for crop sensor and micro four-thirds cameras.
You can also get wonderful results throughout this Botswana wildlife photography tour, with many subjects, with a high quality 'bridge' camera with an 18-20x or higher optical zoom and a wide-angle setting which is equivalent to 24mm.
A tripod cannot be used on this tour (there is insufficient space), but a monopod can be helpful if you use a heavy telephoto, as the vehicle sides and armrests are low and so often unsuitable for resting on. A beanbag can also be useful at times. If you do not have one yourself, let us know as our local agent can usually provide one. Bring a flash if you wish for the Khwai night drives.
The safari vehicle has a battery charger, but even so, we would strongly recommend having plenty of spare, full-charged battery power just in case! A failure of the charger is unlikely, but think how you might cope if it happened. There is no other source of electricity during the safari. Dust is ever-present in Africa, so protecting (so far as is practicable) and cleaning your photography equipment is important.
If you have questions about what equipment you ought to bring, please contact us.
VICTORIA FALLS EXTENSION

As our Botswana wildlife photosafari ends in Kasane in northeasternmost Botswana, it is very easy to extend your holiday and add in a visit to the incomparable Victoria Falls. The Victoria Falls or Mosi-oa-Tunya (the Smoke that Thunders) are situated on the mighty Zambezi River between Zambia and Zimbabwe. The falls are some of the largest and most spectacular in the world, offering some remarkable opportunities for photography, and so are well worth a visit if you can spare an extra day or two.
We recommend travelling to Victoria Falls in Zimbabwe to see the falls (Victoria Falls, which has a wide range of hotels and is a pleasant small 'touristic' town, is only about one and a half hours from Kasane), spending two nights there. (A one night visit is possible, but rather rushed.) The views from the Zimbabwe side are better, particularly in October-December when the Zambian part of the falls largely dries up. Tourist visas can be obtained in just a matter of minutes at the border, for around 50-60 US Dollars cash (no passport photos required). There are regular flights from Victoria Falls to Johannesburg.
The price will depend on the price level of the accommodation you select and your duration of stay. Please indicate on your booking form if you are interested in a Victoria Falls extension and we will quote you a cost once we know your intended accommodation (we suggest the good but mid-priced Batonka Guest Lodge, the historic, impressive and expensive Victoria Falls Hotel or the very comfortable and conveniently situated Ilala Lodge, but other options are also available) and other requirements. A road transfer from Kasane to your hotel at Victoria Falls and an airport transfer at Victoria Falls will be included.
You can easily walk to the falls from some of the accommodations (for example Ilala Lodge or the Victoria Falls Hotel), but more distant ones need road transport. This is best arranged locally while you are there. We can strongly recommend the 'Flight of the Angels' by helicopter, including the extended version that goes upriver over the national park. This is best pre-booked in case they are busy the day you want to fly.
MAKGADIKGADI EXTENSION
For 'something completely different' why not make a pre-tour visit to the famous Makgadikgadi Pans, a huge, mainly dry area of grassland, sparse savanna and saline lake beds situated roughly two hundred kilometres (120 miles) to the southeast of Maun? There are some splendid tented safari lodges here, including Camp Kalahari and the famous and original Jack's Camp (both lodges are run by the same company). Transport from and back to Maun is by charter flight, and you can transfer to the charter plane for the one hour plus flight directly upon arrival into Maun airport if you wish. Views during the flight are spectacular, so be sure to have your camera out.
The arid, wide-open landscapes of Makgadikgadi come as a total contrast to the Okavango Delta region at Moremi and the savanna landscapes of Khawai, Savuti and the Chobe River that you will experience during the tour. This is a semi-desert region and for much of the year, the huge saline pans are dry, fringed by vast expanses of tawny grassland, stands of Makalani Palms and areas of dry bush country or woodland.
The first of the two major attractions of Makgadikgadi are the group of habituated Meerkats. These fantastic creatures have become so unafraid of humans that you can visit them at their den, or follow them closely as they forage through the grasslands. They are not only tame enough to let you photograph them from just one or two metres distance if you want (you can get great wide-angle shots!) but they will, if you kneel or sit, climb up on your back, shoulders or head to get better views of their surroundings! You can even stand up while they remain at their post. Various individuals act as 'lookouts' for the group and they regard an extra metre or two of vantage height to be invaluable!
As well as the fantastic Meerkat experience, the other big draw at Makgadikgadi are the rare and usually (i.e. elsewhere) very wary Brown Hyaenas. At one of the dens here the hyaenas have become used to visitors, so much so that they typically emerge from the den well before sunset and lol around, interact with each other or have a wander before the light goes. Quite often they come right up to the vehicle! For anyone who knows how difficult it normally is to see this shy and increasingly rare Southern African predator, Makgadikgadi's Brown Hyaenas are miraculously approachable.
Makgadikgadi has an excellent selection of other wildlife and the recent creation of permanent waterholes by the use of solar-powered boreholes has meant that many more large mammals spend the whole year here, not just the wet season. Large numbers of Blue Wildebeest and Common Zebras, and smaller numbers of Springboks are to be found, Black-backed Jackals are common and both Lions and Cheetahs are regular. The waterholes attract many birds, including flocks of Burchell's Sandgrouse and Grey-backed Sparrow-Larks. The wind often gets up as the morning advances, creating interesting possibilities for photographing mammals amidst the dust.
As the lodges are outside the national park boundary, night drives can be made and it is easy to see wallaby-like Spring Hares, Cape Hares and Bat-eared Foxes. Aardwolf and Small-spotted Genet are regular and very rarely an Aardvark is sighted.
Both lodges have expert, very professional resident naturalist guides who are attuned to the needs of photographers. We suggest three nights here, but you can also make a worthwhile two nights visit if you need to keep the cost down. Please contact our office if you are interested in a visit to Makgadikgadi. The cost will depend on the duration of your stay and whether you opt for the comfortable Camp Kalahari or the even more luxurious and more expensive Jack's Camp. If you want more than one visit to the Meerkats and one visit to the Brown Hyaena den to be guaranteed during your stay, it is best to request a private vehicle and guide (at extra cost, if available).
Photographic Highlights
The beautiful scenery and extraordinary wildlife of the Moremi Game Reserve and the Khwai Concession
Amazing wildlife in the world famous Chobe National Park, from Savuti eastwards
Excellent chances of great encounters with Wild Dogs (African Hunting Dogs)
Frequent encounters with large cats
Amazing daily encounters with a fantastic variety of other large game
A superb variety of bird life, much of which is approachable and photogenic
Transport by extended safari Landrover or Toyota Landcruiser with all-round visibility and low sides. The perfect wildlife photography platform that can go anywhere
Maximum 5-6 group members in the vehicle
Only one vehicle and a very small group size for the best possible photosafari experience
A boat trip offering an entirely different wildlife photography experience
The marvellous habituated Meerkats and Brown Hyaenas of Makgadikgadi (on an optional tour extension)
The awe-inspiring Victoria Falls (on an optional tour extension)
OUTLINE ITINERARY
Day 1: Early afternoon tour start at Maun airport. Transfer to our hotel outside Maun.
Day 2: Drive to Xakanaxa in Moremi Game Reserve.
Days 3-4: Moremi Game Reserve. Overnights at Xakanaxa.
Day 5: Drive to Khwai Community Area.
Days 6-7: Khwai Community Area.
Day 8: Drive to Savuti area in Chobe National Park.
Days 9-10: Savuti area.
Day 11: Drive to Chobe Riverfront area in Chobe National Park.
Day 12: Chobe Riverfront.
Day 13: Chobe Riverfront, then drive to Kasane for morning tour end.
---
To see a larger map, click on the square-like 'enlarge' icon in the upper right of the map box.
To see (or hide) the 'map legend', click on the icon with an arrow in the upper left of the map box.
To change to a satellite view, which is great for seeing the physical terrain (and for seeing really fine details by repetitive use of the + button), click on the square 'map view' icon in the lower left corner of the 'map legend'.
PRICE INFORMATION

Wild Images Inclusions: Our tour prices include surface transportation, accommodations, meals and entrance fees.
Our tour prices also include a Chobe River boat trip and both soft and alcoholic drinks while on safari (but not while at Maun).
Tips/gratuities for the local driver-guide and for the camp staff are not included. We suggest you allow around US$400 per person for this itinerary.
Deposit: 20% of the total tour price. Our office will let you know what deposit amount is due, in order to confirm your booking, following receipt of your online booking form.
TO BOOK THIS TOUR: Click here (you will need the tour dates)
---
2023:
£7010, $9290, €8360, AUD13740. Maun/Kasane.
2024:
provisional £7390, $9790, €8810, AUD14480. Maun/Kasane.
Single Supplement: 2023:
£120, $170, €150, AUD250.
Single Supplement: 2024:
£130, $180, €160, AUD260.
The single supplement shown applies to the night in Maun. Five of the safari tents are available for single occupancy at no additional charge.
This tour is priced in US Dollars. Amounts shown in other currencies are indicative.
Air Travel To & From The Tour: Our in-house IATA ticket agency will be pleased to arrange your air travel on request, or you may arrange this yourself if you prefer.
BOTSWANA WILDLIFE SPECTACULAR PHOTOGRAPHY TOUR: DETAILED ITINERARY
Day 1
Our Botswana wildlife photography adventure will begin in the early afternoon at Maun International Airport in northern Botswana, from where we will be transferred to our hotel for an overnight stay.
Our pleasant hotel is situated outside Maun itself and beside a wide river. There will be some initial opportunities for photographing waterbirds and other birds this afternoon.
Day 2
This morning we will board our safari vehicle and make the journey northwards to the Xakanaxa area in Moremi Game Reserve for a three nights stay in our tented camp.
There will be plenty to see during the journey. On the open plains large herds of African (or Cape) Buffalo and Red Lechwe can be seen, while large breeding herds of African Elephant live in the mopane scrub and, in the waterways, pods of Hippopotamus are a common sight. We will enjoy our first opportunities for wildlife photography along the way and we should arrive in Moremi Game Reserve in time for some initial exploration.
Days 3-4
During our time in the Xakanaxa region, we will explore the surrounding wilderness of the Moremi Game Reserve during morning and afternoon wildlife photography drives. Moremi lies at the eastern edge of the Okavango Delta in northernmost Botswana. Habitats found here range from wide-open floodplains, marshes, lagoons and papyrus-fringed channels to woodland and savanna. The mopane woodlands alone range from towering trees around Xakanaxa (where there is sometimes a cathedral-like feel owing to the trees being so tall, with a continuous high canopy) to classic climax mopane woodland and, in the dryer and harsher areas, mopane scrub woodland. The San-ta-Wani region has scattered ephemeral water pans with large floodplains and areas of camel-thorn woodland. As a result of this wide variation in habitats, the diversity of both wildlife and birdlife is excellent and sometimes we will not know which way to point the cameras.
Moremi is amongst the best game reserves in Africa for viewing and photographing the endangered African Wild Dog. Xakanaxa is also home to a resident herd of several hundred African Buffalo, whose range covers the territories of at least four prides of Lions which may often be seen flanking the ever-moving herd. Breeding herds of elephants move between their browsing areas in the mopane forests and the wetlands of the Okavango Delta. Red Lechwe is one of the more unusual antelope species and commonly found here, while the rare Sitatunga antelope may be spotted along the waterways of the Xakanaxa Lagoon.
The rich diversity of habitats is also home to a wide array of birds, and some of the more obvious and/or interesting photography subjects we may encounter include African Skimmer, Saddle-billed and Yellow-billed Storks, Goliath Heron, Dark Chanting and Gabar Goshawks, Shikra, Tawny Eagle, African Fish Eagle, African Hawk-Eagle, African Harrier-Hawk, many of most of Botswana's hornbills including Red-billed, Southern Yellow-billed, African Grey, Bradfield's and the mighty Southern Ground, and numerous other goodies including the globally-threatened Slaty Egret and Wattled Crane.
At this season wintering Lesser Spotted and Steppe Eagles have arrived in Botswana from Eurasia and local cuckoos, including Diederik, Levaillant's, Jacobin, Great Spotted and African, are very active and vocal. Other brood-parasites that we may encounter and photograph include Greater and Lesser Honeyguides, and spectacular Shaft-tailed, Pin-tailed and Eastern Paradise Whydahs.
Day 5
Today, following an early breakfast, we will take a slow game drive through the Moremi Game Reserve northeast towards the Khwai Community Area for a three nights stay in our private tented camp. The Manuchira Channel is known as the Khwai River at its easternmost extremity and today's journey follows this watercourse, with the track weaving from the riverside and floodplains into the mopane veld and the woodlands that make Khwai one of the most scenic areas of the Okavango.
We pass the magnificent Dombo Hippo Pools in the morning stopping to enjoy the scenery and the antics of the resident Hippopotamuses. The western mopane veld is home to breeding herds of elephants, but the eastern reaches of Khwai River are home to some impressive old bulls. The mature bulls revel in the cool waters of the Khwai and are far more approachable while drinking and bathing than the breeding herds, often making for some wonderful photography opportunities The river has an unusually high density of hippos, as well as some huge Nile Crocodiles.
Predators including Leopard, Cheetah, Serval and Lion are all possible along this route and both Xakanaxa and Khwai are included in the home ranges of two different packs of African Wild Dogs. General game is common and includes Southern Giraffe, Burchell's Zebra, Tsessebe and Red Lechwe, with the spectacular Roan and Sable Antelopes being less common but possible.
Raptors are common in this area and we may also come across the huge Kori Bustard, while in the mopane woodland the bird parties may include Stierling's Wren-Warbler, Neddicky, Yellow-breasted Apalis, Chin-spot Batis, Scarlet-chested Sunbird and Red-headed Weaver. The margins of the swamps are good for African Crake, Black Coucal and the lovely Rosy-breasted Longclaw.
Photography opportunities abound, so, with all the mammals and birds we will see today, the cameras should be busy!
Days 6-7
The Khwai River forms the boundary between the Moremi Game Reserve and the Khwai Community Area, and for these two days, we will explore the Khwai floodplains on wildlife photography drives both during the day and at night.
Exploring after dark with spotlights offers an opportunity to experience some of the nocturnal animals that are rarely encountered during the day. We may also come across predators like Lion, Spotted Hyaena or even Leopard that are also active by day but which appear rather different at night.
We will also have the opportunity to explore the wilderness on foot and enjoy an up-close and personal encounter with Botswana's flora and fauna.
It is important to note that night drives and guided walks are not permitted within the Botswana national parks and reserves, so these activities are conducted outside the boundaries of the Moremi Game Reserve in the Khwai Community Area. Staying here allows us much greater freedom of action and the chance to enjoy some unusual activities that are not possible for visitors who are restricted to the parks and reserves.
We will split our time between the dry-land habitats of the lead-wood and camel-thorn woodlands and savannahs and the riverside and marshy back-waters of the Khwai.
The Khwai region boasts an excellent population of African Elephant, both solitary bulls and breeding herds. African Buffaloes use this area seasonally, with large herds moving in during the summer rains and the swampy areas in the west are home to Red Lechwe. Other ungulates include Tsessebe, Blue Wildebeest, Southern Giraffe, the impressive Greater Kudu, Sable and Roan Antelopes, and Impala.
Khwai has a marvellous selection of predators. Lion, Leopard, Serval and African Wildcat are all regular in this region, with African Wild Dog and Cheetah less likely though possible.
The whole area is also one of Botswana's birding Mecca's, with raptors and waterbirds being particularly abundant, making for some great photography. We shall be on the lookout for such raptors as the huge as Martial Eagle, the impressive Bateleur, Long-crested Eagle and Black Sparrowhawk, while the entire Khwai River is a favoured hunting domain for Bat Hawk. Waterbirds include African Rail, African Crake, Allen's Gallinule, Lesser Moorhen and Greater Painted-snipe.
Day 8
Today, we head further northeast as we make our way to Chobe National Park, where we will initially spend three nights camping in an exclusive wilderness campsite in the Savuti region.
It will be a fascinating drive as we pass through the desert-like landscape, which is evidence of the vast Paleo-Lake Makgadikgadi that once covered much of northern Botswana but which dried up some ten thousand years ago. The most challenging part of the trip is crossing the Magwikwe sand-ridge that formed the shoreline for this massive inland sea. The winding track through this deep sand area makes for interesting travel!
The old lake bed is now the Mababe Depression. The dense clay floor of the depression results in vegetation that offers a high-protein feed for wildlife and the area teams with game after rain. During the rainy season, the depression is often impassable due to the 'black cotton' soil and alternative routes must be used. Today is a day when anything could happen!
The range of habitat that is covered encompasses most of the habitat types of northern Botswana. We pass through excellent Lion country and some of the best Cheetah country that our safari will cover. Elephants occur throughout the drive but are more common at the start and end of the drive where permanent surface water can be found.
The Mababe Depression is a paradise for birdlife. The nutritious grasses that grow on the rich soils provide excellent seed for an impressive array of finch-like birds. Among these are the magnificently coloured Violet-eared Waxbill, Black-cheeked Waxbill, Village Indigobird, Shaft-tailed Whydah and Paradise Whydah. These, in turn, provide a good food source for small raptors such as Gabar Goshawk, Red-necked Falcon and Lanner Falcon. It is not only the small birds that feed on the grass seeds but rodents too. There are annual outbreaks of huge numbers of rats and mice. As a result, good numbers of Secretarybirds, Black-shouldered Kites, Steppe Buzzards and Tawny, Wahlberg's, Steppe and Lesser Spotted Eagles are often present and provide more photographic distractions for the cameras!
Days 9-10
Unlike the vast majority of the country, Savuti, in west-central Chobe National Park, is not a totally flat landscape. Large outcrops of volcanic rock reach up out of the Kalahari sands, towering over the endless savannah. These hills provide habitat for a completely different array of smaller mammals, birds and plants.
The 'Savuti Marsh' has been the stage for many of the most dramatic wildlife documentaries about Botswana or indeed Africa as a whole. The wide-open country, good ungulate populations and particularly strong prides of Lions and Spotted Hyaena clans make for dramatic wildlife interactions and excellent viewing opportunities. The often-dry Savuti Channel runs through this landscape, linking the dry sand-veld, the waterholes, the hills and the grassland that together comprise the 'Savuti Marsh'.
Undoubtedly the most unusual photography attraction here is the interaction between lions and elephants. The area is inhabited by a huge pride of Lions, known as the 'Marsh Pride', with numbers fluctuating between 20 and 30 members. These remarkable predators have learned over the years how to hunt these massive pachyderms that are supposedly above predation. Launching their attack under darkness and using their numbers, they manage to kill adolescent and even young adult elephants! Night photography here is not allowed, but if we are really in luck we will find a pride at an elephant kill.
The marsh is prime Cheetah country too and in the rainy season it is not unusual to have African Wild Dogs hunting here too. There is a real chance for Leopard here as well, although it cannot be counted on.
The surface water that is pumped up here by the Botswana Government provides a major attraction for birdlife. In the dry season, thousands of doves and Double-banded Sandgrouse and other species come down to drink in the mornings and are under constant surveillance by a variety of raptors, including Yellow-billed Kite, Tawny Eagle and African Hawk-Eagle. Red-crested Korhaan is common in the Kalahari Apple-leaf (Lonchocarpus nelsii) veld and the marsh is home to good numbers of other interesting birds, such as Dickinson's Kestrel, Red-necked Falcon, Northern Black Korhaan, Meyer's Parrot, Chestnut-backed and Grey-backed Sparrowlarks, Red-naped Bushlark, African Pipit and Desert Cisticola.

 At this season they are joined by Montagu's Harriers from Western Eurasia, Caspian Plovers from Central Asia and Amur Falcon's from even further east.
A further point of interest in Savuti is the Bushman paintings of giraffe, elephants and eland that, unusually, have been painted on rocks out in open country rather than in caves. They are thought to be well over a thousand years old!
Day 11
Today we will leave Savuti to travel northeastwards along the Chobe River, arriving at our campsite in the early afternoon for a two nights stay. The drive takes us through the stunted mopane scrub of the Goha clay basin, across some sand-ridge country and through the wonderful Zambezi teak woodlands of the Chobe Forest Reserve and along the Chobe River itself. The Chobe floodplain is tens of kilometres wide and in years of exceptional rains the water stretches as far as the eye can see.
While there are community areas that we pass through that are settled by local tribes, for the vast majority of the day's drive we pass through wild country where wildlife moves freely, uninhibited by fences or man. Roan and Sable Antelopes thrive in the teak woodlands, where the low density of predators and lack of competition for food by other ungulates makes this prime habitat for these large ungulates. Leopard occur in these woodlands in low numbers but they are highly secretive and seldom seen.
The Goha region has natural waterholes that hold water well into the dry season and herds of buffaloes, Burchell's Zebras, Greater Kudus and elephants come down to drink.
A variety of interesting birds occur in this part of Botswana, particularly in the teak (Baikea plurijuga) woodlands. This broad-leafed woodland, known locally as 'miombo' provides good pickings for insectivorous birds such as Grey Tit-flycatcher, Ashy and Pale Flycatchers, African Paradise Flycatcher, Amethyst Sunbird and Violet-backed Starling, while other species include Lizard Buzzard, Flappet, Fawn-coloured and Dusky Larks, and Yellow-throated Petronia.
Day 12
Botswana's great Chobe River is presided over by an impressive sand ridge. Along this sand ridge, broad-leafed woodland is the dominant vegetation. As we move into the river valley the impact of the high elephant population is strongly felt, with a paucity of the large trees that typically line the rivers of sub-tropical Africa and instead dense, tangled masses of knobbly combretum and woolly caper that appear impervious to the constant onslaught of these browsers. The river itself is broad and meandering, and in the flood season, it is an impressive sight. To the east, outside of the park, lie the riparian forests that are home to so many of the more tropical African species whose ranges end abruptly in northeastern Botswana.
Our final full day will be another packed with wildlife. Much of the Chobe's wildlife comes to drink in the latter half of the morning and during the early afternoon when the heat excites their thirst. To give ourselves a very different angle and aspect for photographing Chobe's wildlife, and particularly its elephants, we will take to a boat on the Chobe River for several hours today. We will be hoping for some rewarding 'low-angle' photography of drinking animals.
This is one of the best places to see and photograph Roan and Sable Antelopes. Breeding herds of African Elephant seem to be around every corner here in the dry season and the massive herds of African Buffalo are constantly flanked by the ever-hungry Lions of the Chobe. This is one of the highest lion densities of any national park or game reserve in southern Africa. The eastern Chobe also supports large herds of Burchell's Zebras.
Puku Antelope occurs nowhere else in southern Africa, but only here on the Chobe floodplains. With the diminishing of the woodlands and thickets, the magnificent Chobe Bushbuck is becoming ever more scarce. Again, a variety of interesting birds will surely crop up during the day.
Day 13
Following breakfast and an early morning wildlife photography drive, our photosafari ends around mid-morning at Chobe Safari Lodge in the town of Kasane in far northeastern Botswana. Transfers to Kasane airport can be arranged (as can a transfer to Livingstone if you are taking the Victoria Falls extension option).
---
---
---
---
Other Wild Images Tours featuring signature mammals
---
---
India
March-April 2024
INDIA: TIGER & WILDLIFE SPECTACULAR – Central India, Agra, the Chambal River and Gujarat
---
Tanzania
April 2024
TANZANIA: WILDLIFE SPECTACULAR – Predators & Prey of Ngorongoro & Serengeti
---
---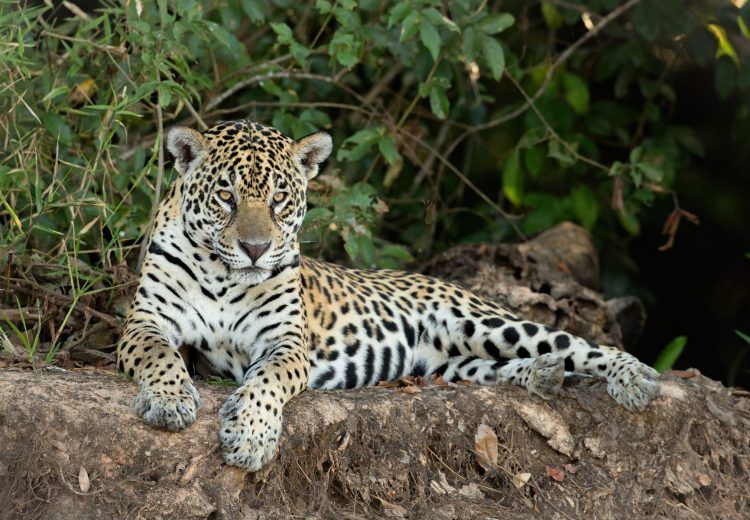 South America (including Galapagos)
August-September 2024
BRAZIL'S PANTANAL: JAGUARS AND SO MUCH MORE – South America's best wildlife photography destination
---
South Africa
September 2024
Private: NAMIBIA & THE KALAHARI – A Journey Through Africa's Arid Eden
---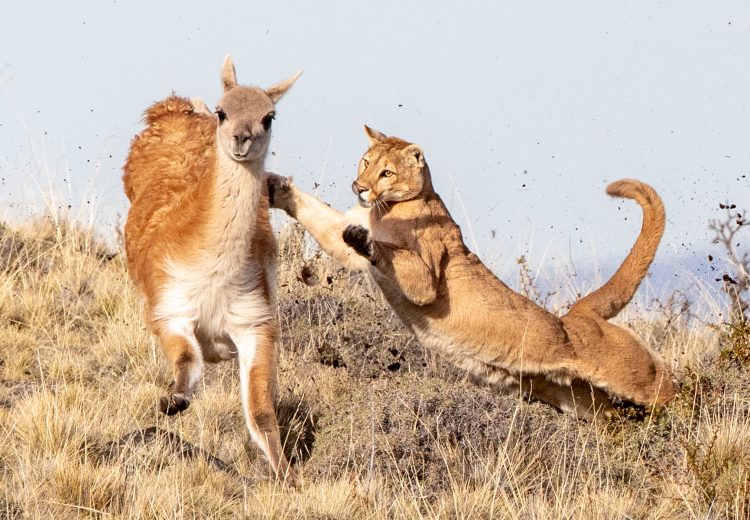 South America (including Galapagos)
September 2024
CHILE: WALKING WITH PUMAS – An Extraordinary Photographic Adventure at Torres del Paine