Angola: Hidden Tribes of the South Tour Report 2022
14 July 2022
When I first visited Angola and pioneered tribal photography tours for Wild Images back in 2018, I actually had one of the most trying trips I'd ever experienced in Africa.  Despite the fact my trip took place during an extreme drought situation and a fuel shortage across the entire country, experience taught me to turn margaritas out of lemons and I ended up experiencing some truly remarkable things including walking with a family of Ovakuvale nomads for a few days and inadvertently getting caught up in a livestock theft situation where I learned how Himba people mitigate these issues in the bush.  
It was a trip that left an indelible impression on me, not just for the beauty of Angolan people but also for the stunning scenery and rock deserts of the south where these people roam with very little interference from the outside world.  
When I returned to Angola this year with a small group of extremely well travelled, warm and kind guests, we went with an expert ground team who not only knew southern Angola intimately but who shepherded us around this region of extremely rough tracks, no signs and wild camping without a hitch.  What a blessing it was to come back to such a beautiful place and share it with such a great team of people.
Isolated from modernity, to a degree the people of southern Angola have retained so much of their traditional culture that it is at once both fascinating and inspiring to meet them.  Particularly the Herero groups (Kuvale, Hakaona, Himba and Mwila) live in Angola with very little cultural dilution.  It is a place where you can meet with people who have rarely, if ever, seen guests from the outside.  A place where you can still see the most traditional people in southern Africa.
After a bleary-eyed overnight flight I met my group in Luanda.  Most flights to Angola from Europe or elsewhere travel through the night and arrive first thing in the morning.  Ours was no different.  We were visiting at a time when Covid testing was required on arrival so all of us patiently went through the motions of testing, getting our e-visas, clearing immigration, collecting our bags, changing money and buying Angolan SIM cards.  Once we were all set, and realising that we had a little time between arriving in Angola and our flight to Lubango, I organised a couple of taxis to take us from the airport to a wonderful beachside cafe, away from the hustle and bustle of the city.
It was one of those perfect African days. The sun was shining and the seas were calm.  Children were playing in the sand between paddling in the shallows of the ocean surf and hawkers were selling their myriad of beach wares including towels, spades, buckets and a variety of floating toys for people to use to play.  I thought to myself "How lovely it is to be back here".  The cafe we decamped in served excellent coffee and a great brunch so it was wonderful to sit in the quiet shade of a beautiful place and relax before going back to the airport.
We had a spectacular flight down to Lubango later that day, flying over Angola's spectacular coastline and the rugged, mountainous interior as we approached Lubango.  Checking in to our hotel that evening we enjoyed meeting our expedition team over dinner and, feeling like we would have an excellent group, the excitement started to build about what might lay ahead of us on the trip.
Ovanguendelengo
A tiny sub-culture of Ovakuvale people, Angola's Ovanguendelengo people are quickly disappearing.  Finding them is actually more difficult than you think and, given that you have to spend a morning driving over the spectacular Leba Mountains before exploring back-country tracks to even find their communities, it is almost always an eventuality that you will arrive to them at the worst light for photography.  Despite this, finding Ovanguendelengo people is a very special experience.  The women still retain their beautiful beehive hairstyles and the men carry their signature 'mohawk' hairstyle to suit.  At the first glimpse they appear to be Kuvale people so it takes a bit of experience to understand these somewhat subtle differences and also to actually find them.  Unlike my last trip, the Ovanguendelengo were roughly in the same place that I first met them but they had moved much deeper into the bush.  We persisted though and in the end we met a wonderful small community of people who kindly allowed us around and allowed us take photos.  It was a really good introduction into the decoration of Kuvale people and how obscure and beautiful some of Angola's traditional cultures can be.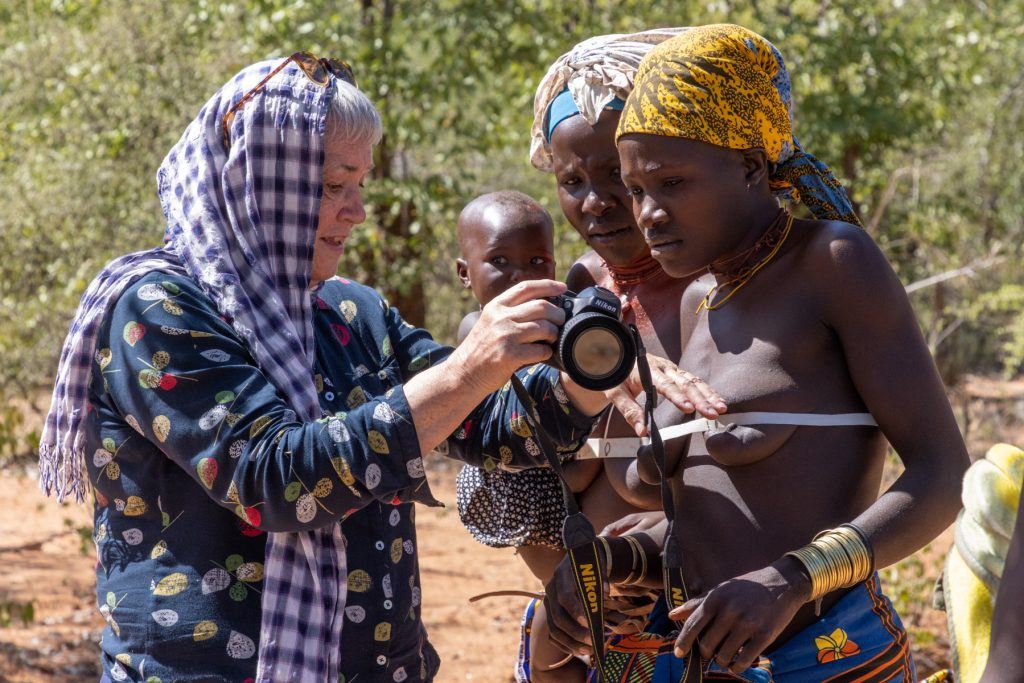 Moçamedes 
After we concluded our visit with these lovely people we drove down to the coastal town of Moçamedes where we enjoyed a lunch of fresh fish at a beachside restaurant.  Angola's coasts are still able to produce an abundance of fresh fish and seafood so dining out on grilled fish washed down with superb local beer was a great introduction to some of the delicious Angolan food we would eat during our trip.
We checked into our tiny and quirky lodge on the beach before going out to do a little sightseeing and street photography in Moçamedes.  This quaint little town is home to a major shipping port for Angola so we first went to check out the harbour before paying a visit to a deserted theatre building that was built in a retro-futuristic style so typical of the Portuguese architecture at the time of the colonial decline in the 1970s.  I've always loved this building.  Its outer shell is completely, and perhaps miraculously given the climate and political changes it has endured, intact yet its interior lies in ruin.  To me it looks like a spaceship has landed in a lost world.  We also went on to check out a former cinema in another great old colonial building but it was being used for a function so we just took to the streets of the town and looked around.  Wandering around Moçamedes always reminds me of Havana in Cuba.  When the Portuguese left Angola fifty years ago many building owners simply left and local people took up residence. We met a lovely group of people who actually had made a home in a building that dated back to 1946 and they kindly allowed us to go inside and take photos while having a laugh with us about life in Angola.  It was a wonderful, friendly introduction to life in this colourful town.
As the sun got lower we went to one of Angola's hundreds of shipwrecks on the coast.  Sitting like a ghost in the setting sun, the rusting shell of the Independecia sits at the end of some sandy tracks north of the town.  It is a former Dutch Shipmair that was built in Waterhuizen in 1967 but it was wrecked only relatively recently.  It now sits as a testimony to this acid coastline as it gradually crumbles into nothing by the strong saline wind and spray.
We returned to the lodge at sunset, making a short stop at a fishing village with its old Portuguese church.  Thankfully the ubiquitous coastal fogs of south west Africa left us alone that afternoon and all of us got our first taste of those beautiful Angolan purple sunsets we would start to see so frequently on our trip.  I had sort of forgotten how beautiful the sunsets were after my first trip so watching the sun go down over the sea with my guests as we sipped our sundowners was a wonderful introduction to our journey south into remote Angola.
Arco and Tombua
We left the next morning before sunrise.  My original plan was to catch the early morning light at the spectacular rock formation of Arco, in Curoca.  The last time I was there its lakes were filled with flamingos so I really wanted to show my guests how beautiful this oasis at the edge of Iona could be.  Sadly the morning fog thwarted that plan so we drove further south to the coastal town of Tombua with its abandoned church on the cliffs overlooking the sea.  We stopped to photograph this church and look out over the rugged coastline.  It was difficult to imagine how the original Portuguese fishermen might have lived in caves carved into the coastal cliffs to eek out an existence from the sea, especially when we saw the entrance to one of these caves from our lookout at the church. 
Rumbling stomachs and tired strolls determined the time to leave the church where we went into town in search of coffee and breakfast.  We ate at a quirky cavernous cafe that was filled with memorabilia from the Portuguese era and as we enjoyed breakfast of eggs washed down by hot coffee some of my guests got up and spontaneously danced to some of the soul music the cafe owner was playing while we ate!
By the time we'd finished dining the fog had started to lift so we stopped for fuel and started our drive north.  For a short time we stopped at one of the abandoned roadside buildings in the desert  to wait for our second expedition vehicle who got caught up with getting some of our permits printed but the stop afforded us some interesting photographic opportunities of this old building and of two young guys who were walking down to the local fishing villages with bags of goods they planned to sell.  
When our second car turned up we drove into Arco, only to find that the lakes on my previous visit had dried up.  Thankfully our local guide there remembered me from my last time there so he guided us around the formation, showing us the varying rock formations and the fossilised shells that made up Arco's 'conglomerate' layers of stone.  Even though the lakes were no longer full, it was still a great place to walk around and, instead of the flocks of flamingos that I found on my previous visit, we found that the local Kwepe people had used the lake beds to herd their livestock instead.  It was still fascinating.
Driving through Kwepe villages we made a brief visit to the incredible eroded rock colinas of Curoca before we turned inland and drove southward towards Virei.
From here onward the landscapes of southern Angola unfolded in an entirely different way from my last visit.  Gone were the dry and grassless dusty plains of my last expedition. Instead, good rains had washed over Angola this year and the area was flushed with grasses and desert plants.  It was so verdant that we even saw a herd of around thirty Springbok running into the hills.  
It is this part of Angola that truly separates the men from the boys on expeditions.  In many places there are no defined roads and the signs, if they exist, are so rusted that you barely know what they mean anymore.  You have to know what you are doing before you head into this remote part of Africa and you need to be well prepared.  Thankfully we were both experienced and well equipped for Tombua was going to be our last real 'civilisation' for the next nine days or so of our trip.
Ovakuvale
We arrived at a remote well that was being used by the beautiful Ovakuvale people to fetch water for both themselves and their stock.  A scattering of people were present when we got there so we introduced ourselves before we went to set up camp in some nearby bushes.  We enjoyed a late lunch before returning to the well during the good light for photography.  Over lunch we enjoyed some photography with a few beautiful Ovakuvale women who were fetching fire wood from the surrounding area.  There is something quite simple and stunning about these women.  They are not so elaborately dressed like their neighbouring Ovahimbas and Ovahakaonas.  Instead they were a traditional scarf of wax cloth around their heads, brass bracelets and anklets and a simple skirt of cloth around their waists.  They are stunning in their elegance and the beautiful way in which they carry themselves so proudly.
While we were enjoying watching life go by for these lovely people we learned that one of the local prominent headmen had recently passed away so the women of this community were forbidden to wear their pretty Ompota headdresses out of respect for his passing.  While this was a bit of a disappointment, they were so happy to see us that they broke out into a traditional dance that Ovakuvale men perform to attract a future wife.  This athletic dance was performed by both men and women and it allowed us to experience our first photography session in an African ceremony.  It lasted until the sun became golden and we all enjoyed wandering around taking photos of life transpiring in the area around the well. One of my guests noticed a young baby with a burn wound so she invited the mother of the baby and the family to our camp where we later treated the wound after dinner.
The next morning we went off in search of traditional Ovakuvale villages.  From my first visit to Angola I had been beguiled by the stunning beauty of Ovakuvale huts which are some of the best examples of African vernacular architecture in the region.  When I last went most of the Ovakuvale villages had been abandoned because there was a terrible drought and the people simply 'boarded up' the entrances to their villages with camel thorn acacias and left.  This time we arrived at an extremely beautiful traditional village at sunrise and met a wonderful family of Ovakuvale people whose women were allowed to wear Ompota and whose children wore the pretty boned harnesses fitted to a child to help them stay upright when they walk.  This curious part of Ovakuvale culture is actually a very practical one.  The boned harnesses are smoothed for comfort and then carved with motifs for decoration before being strung lightly to a child to help them walk.  When the child has learned the harness is removed and handed over to the next youngest child who needs one.  
We stayed in this special place watching Ovakuvale women smoking pipes, children playing and goats being herded before the light became too harsh, forcing us to return to camp for a late breakfast.  We finally said goodbye to the beautiful Ovakuvale people to drive further south on our trip.
We passed an abandoned Portuguese outpost on our way to the incredible and mysterious rock art site of Tchitundu Hulo.  I first visited this site on my original trip to Angola and back then I had a little more time than on this trip so I spent time documenting the various art sites across the mountains in both upper and lower galleries.  On this visit I didn't have as much time to linger so I took a couple of my guests on a short walk up the granite boulders in search of art.  We found some spiral and animal like formations on the rocks that lay open to exposure from the elements.  The short walk up the hill afforded us all some incredible views over the surrounding countryside and it really gave us a taste for how beautiful Iona actually is.
Tchitundu Hulo is a really mysterious place.  Not a lot is actually known about it other than the fact it is sacred to the Ovatwa people and is estimated to date back to the 20,000 years.  Descending from the rock we found a group of beautiful Ovakuvale girls who had assembled around our parked car in the shade.  They were simply a bit curious about our visit so we stopped to take some lovely photos with them before leaving for the main lower gallery of art, with its more elaborate illustrations.
We had an extremely long drive ahead of us so we couldn't stay very long at the rock art sites.  We also had to return to the outpost we passed to make sure we could meet up with our support vehicle so a brief stop there allowed us our last glimpses of Ovakuvale life for the trip.  There were several families at the outpost watering livestock but sadly the light was too harsh to photograph them.  Instead we simply enjoyed our brief stop chatting to them through our local guides and watching life go by.
Driving further into the rock desert we passed through the official park gates of Iona and enjoyed a lunch on the side of a geothermal pool that was once used by wild elephants to drink, before hunters scared them off from the site years ago.  This pretty place, with its clear pools lined by emerald reeds sits like an oasis in the desert.  There is always water here, the result of a natural spring which attracts both wild birds and local people.  
After lunch the drive further south ran parallel to some of the most dramatic mountain ranges with abandoned villages in the foothills. During the drive we found a huge troupe of wild Chacma baboons wandering around the nearby hills and I couldn't help but be in awe of actually seeing wildlife in Iona.  This was such a huge contrast to the parched heat of my last trip.  I felt happy for the people and the wildlife of southern Angola that some relief from that terrible time had finally arrived.  
It took us quite a while to reach the heart of the Ovahimba area and, after locating the krall I stayed in on my last visit, asking if anyone I knew was there (they weren't), we arrived at our evening camp during the last vestiges of daylight.  Thankfully our expedition support team had arrived ahead of us and were already starting to prepare dinner.  I helped out the crew by searching the local riverbed for dried mopane wood to start a fire.  That night we all fell asleep under a blanket of a million stars in this, one of southern Africa's wildest and most beautiful corners.
Ovahimba
Shortly after sunrise the following day we went out to visit the boma of a traditional Ovahimba lady and her family for photography.  Only her daughters were there when we arrived but a young Ovahimba boy went off to find their mother so we could meet the whole family and enjoy some photography while we learned about traditional Ovahimba life.  It was our first introduction to Himba people in Angola and a very beautiful experience as we watched these pretty Ovahimba girls milking their goats and helping their mother get dressed up in her traditional clothes.  Word had got out that people were visiting so we arranged to meet up again later for a traditional dance in the riverbed.  When the light became too harsh we returned to camp for lunch and a rest.
As we enjoyed our siesta, quite a number of Ovahimba people started to arrive.  Some of the women in particular were already dressed for the ceremony we would attend later that day and, deciding that each were so intricately decorated and stunning, I set up a makeshift studio in our camp using a piece of canvas as a backdrop for portrait photos.  It was a nice way to really help my guests get their head around how to photograph people in a portrait situation well and what better people to photograph than smiling, attractive Ovahimba women.  
It was during this session that we all got to really appreciate how beautiful Ovahimba decoration really is. One lady turned up in her traditional wedding headdress made from soft goatskins, her 'Ekoli' to signify she was going to get married.  It was all so beguiling and interesting to see.  The Ovahimbas of Angola rarely have anything modern added to their dress. Unlike the Himbas over the border in Namibia who have seen the modern world and added bits of bling they like to their necklaces etc, these women had seen none of that so what we experienced was probably the most pure version of Ovahimba culture in the world.  All of us were enthralled.
Later that day we drove down to a nearby riverbed to watch these amazing women dance.  Our visit was a cause for great celebration and the men of the community slaughtered a goat that we had bought as a kindness gesture for our visit.  Between photographing the dance and the preparation of the goat (including how humanely it was killed and how expertly it was butchered on top of a bed of green branches to stop the meat from getting dirty), we were all left mesmerised by this complete immersion into Ovahimba culture in such an incredibly remote part of the world!
Ovahimba women perform a traditional dance in an ephemeral river bed close to our camp (video by Inger Vandyke)
The next day we went off in search of more Ovahimba kraals but we couldn't find anyone so we decided to have breakfast at our camp before a further long journey south.  Once again the trip ran parallel to the same mountains we followed the previous days and we actually found an ancient rubbing stone in the middle of nowhere.  This stone was worn smooth by centuries of animals who probably used it to scent mark or scratch.  We stopped to touch this beautiful rock that had most likely been visited by many wild rhinos and elephants over the centuries, as their own marker of territory in their world.
We continued to encounter many itinerant communities of Ovahimba people and, taking a chance on a back country track that we'd noticed but weren't so sure of, we ended up visiting an extremely isolated Ovahimba krall with the most wonderful family of people who greeted us like old friends.  What a fantastic discovery out in the middle of nowhere!  We listened to one of the Himba men playing music, watched Ovahimba mothers preparing food for her tiny children and we were there when some elderly women arrived carrying huge bundles of goods on their heads.  Inside traditional houses we experienced the warmth and homeliness of life with these amazing people and we even stopped by a nearby watering hole to watch the local children fetching water for their goats.  It was such a great visit that we all struggled to depart but we had to drive further south so we reluctantly left.
During the drive we came across a huge herd of goats, sheep and cows that the local Ovahimba people had brought to a riverbed to water.  We stopped and although the light was really, really harsh we were stunned to see a young Ovahimba boy digging a hole in the sandy river bed to get water and then drinking directly from it!!!! Normally I have seen children using their cupped hands to drink or a tin or a cut bottom of a plastic bottle.  This child, however, just drank straight from the sand.  I am always a little reluctant to show photos of things like this in case they cause people to judge African people incorrectly but watching this just showed how traditional the people we met actually were.  What an amazing thing to witness!
As we went even further south towards the border of Namibia, we stopped by a prominent well where we realised that the diversity of people had changed alongside the subtle, yet noticeable, changes in the landscape.  It was here that we met our first Twa and Hakaona people of the trip, a sure sign that we had travelled a lot further south than our start point.  This large well also allowed our support vehicle to completely stock up on our water supplies for both cooking and washing over the next few days.  
Wandering around here it was fascinating to see the strange contrast between the highly decorated Ovahakaona women alongside the sparsely decorated Ovatwa people who had gathered there.  The few Ovahimba people we saw when we arrived seemed to be finishing off their daily duties and they headed off soon after we arrived.
When our vehicles had been restocked we drove further on to the southern tribal town of Oncocua where we also needed to register our visit with local authorities and stock up on food before heading out to our camp.  While we were parked for both we were surrounded by all sorts of local people who were curious to find out what these strange guests were up to in town.  It was the first time on the trip that we saw a young boy pushing along a lovely toy that he had fashioned out of scrap wire and bottle tops.  This ubiquitous African play toy always warms me when I see it.  It is the ultimate expression of the resourcefulness of children – that ability to make a toy out of the most basic materials.
After a brief stop in town we drove out to our camp which the boys had set up in a pretty river bed under shaded trees.  Although we began to rest in the shade the presence of numerous sweat bees forced a couple of us to seek shelter in our tents.  For some reason they were only bothersome that lunch.  The rest of the time they disappeared?  Nevertheless we enjoyed a brief break before going out for an afternoon shoot.
Ovahakaona
Over the course of the next two days we visited several Ovahakaona kraals where we watched livestock herding, dancing and enjoyed sharing the daily duties of village life.  We stayed in some of them until the sunset watching dances and also learning about Ovahakaona culture.  We visited Hakaona villages over two sunsets and a sunrise to learn about traditional music, dance and the Ovahakaona way of life.  
Our first sunset visit was to the village of a locally prominent headman whose multiple beautiful wives and children enthralled us with traditional dancing and singing.  It was such a wonderful experience being there that we stayed almost until it was dark photographing everyone and life inside the kraal. 
Ovahakaona women and girls perform a traditional dance designed to strengthen their torsoes (video by Inger Vandyke)
By the time we made it back to camp our support camp had lit the campfire, opened a bottle of red and the path to our tents was thoughtfully illuminated by a line of traditional kerosene lanterns.
The following afternoon we also spent time until sunset at a Ovahakaona village where we saw an incredible dance performed by women and girls to not only impress men but also to strengthen their core muscles!  Oddly there was a large drum also being played by a designated Ovahakaona lady who rhythmically played while the assembled women danced to the rhythms of the music and life in remote Africa.
Perhaps our most fascinating visit to a Ovahakaona kraal was when we drove out to the village of another prominent headman whose wives were out in the fields working when we arrived.  He proceeded to send one of his children out to fetch them while we were invited to wander around taking photos.  During the time we waited we watched in fascination as he played a traditional, handcrafted guitar called a Cihumba. His kraal was nestled in a beautiful landscape dotted by open areas and large granite kopjes and as we walked out to meet his wives we also took the opportunity to photograph him sitting rather regally on top of a kopje holding a traditional Ovahakaona spear.  We also spent some time with his family taking photos on the kopjes which was very beautiful.  Returning to the kraal itself we were able to watch, photograph and learn about how Ovahakaona people herd their livestock.
Perhaps some of the most visually beautiful people of our trip, it was hard to think about our time with the Hakaona people ending.  Of course we met them at the local market in Oncocua where we enjoyed a little street photography with the local people of different ethnic groups but the real highlight came from our village visits where we could witness life first hand with these beautiful people.
Oncocua's Market
The sometimes bustling market that lies in the heart of Oncocua can often be an excellent place to meet and photograph people visiting from the outlying areas surrounding the town.  While our tour was on, quite a lot of local people were busy in their fields after the wonderful rain so on both visits it was a little quieter than normal.  We did, however, meet some lovely young women and girls who seemed to have been sent to the market to either sell or buy goods including a beautiful young Ovahakaona girl who kindly said yes when we asked her for photographs and also a couple of beautiful young Ovandimba girls with their hair beautifully braided through beads.  
I first met Ovandimba people in Oncocua market years ago and during that trip I also tried to find their villages but I had no luck.  Even with driving down remote bush tracks, asking around and exploring, my search for Ovandimba villages proved fruitless.  They really are that hard to locate so if you have a keen eye and a bit of luck on your side, you may meet Ovandimba people in the markets when they visit.  
Ovatwa
The fascinating Ovatwa people of southern Angola represent an entirely different people group to any others we meet on the expedition.  Genetically they are linked to the Ovatwa pygmies in equatorial Africa.
In Angola they are one of the most economically impoverished groups of people in the country.  It is likely that European settlers encountered TOvatwawa people when they first arrived in the 16th century.  Even if they are sometimes confused with the first people of Angola, the San, physically they bear little difference from the Bantu people they live alongside.  These days Angola's Ovatwa people live in close economic symbiosis with the tribes among which they are scattered including Ovahakaona and Ovahimba and indeed, if you meet some Ovatwa in Angola, it is easy to mistake them from Ovahimba or Ovahakaona.
Living simply in makeshift kraals deep in the bush, we found two wonderful communities of Ovatwa people on our expedition this year.  On a personal level it was great to run into some of the people that I had met on my last trip who remembered me from back then and greeted me with such wonderful kindness.
When we arrived at our first Ovatwa village, we all noticed their pretty huts fashioned out of materials they could find, including branches of bushes, scrap iron, tarpaulins and hessian sacks. This homely patchwork construction created a whimsical and warm atmosphere in the village and we really enjoyed meeting these people who were very 'salt of the earth' in the way that they lived.  
Many of our first Ovatwa opted to adorn themselves to look like Himbas and the resemblance was actually very close.  The Ovatwa are often employed by more powerful tribes like Himba or Hakaona to do more manual labouring jobs like herding livestock, blacksmiths, leather curing and creating adornments.  Yet paradoxically they like to emulate the look of their masters, depending on where their community lives.
Our second kraal was the location of a well known local Ovatwa blacksmith who very kindly showed us how he fashioned metal items including jewellery and utensils from former missiles and other military items leftover from the time when Angola was experiencing a civil war.  
Unlike the previous Ovatwa village, these people had set up home in a disused Hakaona krall and they were living in the pretty huts fashioned out of young sapling wood that characterised Ovahakaona villages we had already visited.
Ovandimba
After wandering around the south and enjoying some incredible experiences with the local people there, it was finally time for us to slowly make our way back north.  We drove a spectacular bush and back country route via a well where met a small group of pretty Ovahakaona girls fetching water for their families and livestock.  We made a brief stop to say hello to them and take photos.  During our time in the south we had run out of time to really photograph Ovahakaona decoration so this final visit allowed us time to enjoy our last burst of Ovahakaona friendliness and culture before we disappeared from their lands forever.
After a while we finally hit the tarmac.  Our journey in the wild south, travelling over trackless realms of the rock desert in southern Angola had come to an end.  We drove a short way before meeting up with our support vehicle who had set up lunch in the shade of a gigantic baobab.  We all sat and looked at this ancient tree in awe.  The things it must have seen in its lifetimes.  As they age, baobabs create a life of their own and their bark tells the story of countless visits, sunsets and sunrises. We enjoyed a wonderful lunch here of exotic cheeses, meats and fruits from our team.  What a wonderful way to end our exploratory expedition in southern Angola.
But was it the end?  No.  We still had so much to see.  Our next people group of the trip was the obscure and little known Ovandimba people whose villages I failed to find on my first trip.  We search endlessly down countless country tracks for their villages.  I began to feel worried that my experience with these people might reflect what I had also done all those years ago on my previous trip.  Amidst a few grumbles from my guests and comments of "are we there yet?'  I stepped out of the car with translator and between us we asked quite a number of people how to find Ndimba villages.  Our support team were giving up and, worried that we needed to set up camp and knowing we were roughly in the area we should be in, they left us to go and get set up before darkness fell upon us.  Our own search continued and towards the end of the day I saw dust rising on the horizon.  Thinking it might be some goat herding activity I thought it would be a good idea to check it out.  After all, even if it wasn't Ovandimba people, to be around people bringing their livestock in to safety for the night was always lovely to see, even if they weren't Ovandimba.
When we drove over I was astonished to find that not only was there some goat herding happening, the livestock was being herded into a spectacular Ovandimba kraal, complete with hand painted buildings and some of the friendliest people we'd met on the trip so far.  What an incredible find and all at the 11th hour of searching!  It was almost dark by the time we found them.  We all wondered if anyone from outside Angola had even found this village before.  The local Ndimba people that were living there seemed almost as surprised as we were by our visit.  We spoke with them about returning the following day, organised another visit at sunrise and then we went back to camp for dinner and overnight.
The next morning we arrived at the kraal at sunrise and we were astonished to see that a few of the local Ovandimba women had turned up in traditional dress, knowing before that we were all interested in learning more about Ovandimba culture.  Well the morning spent at this kraal ended up being a highlight for all of us as we spent time laughing, photographing and learning about this beautiful and little known culture of southern Angola.  We had a chance to explore the kraal including some of the constructions made out of old military equipment including the back gate which had been fashioned from the door of a military truck and an odd chicken coup made out of an old wheel.  Lining the communal fireplace were metal tracks from the belted tyres of a tank.  It was all just really fascinating, beautiful and memorable at once.  
Towards the end none of us wanted to leave but we had to go north into the area of Ovamwila people so we departed to drive up towards Lubango.
Ovamwila
Of all the groups of people we met on the expedition, it was perhaps the Ovamwila people who were the most highly decorated and fascinating of our trip.  Clinging onto an ancient culture and style of traditional dress, Angola's Ovamwila people culture is largely being kept alive by its women.  Adorned with the many stranded necklaces called Vilanda and their spectacular braided hair braids called Nontombe, Ovamwila culture is celebrated in Angola as one of the most charismatic and uniquely Angolan cultures still alive today.
Our first stop with these amazing people was at a market where I'd met them years ago.  Even here, you have to know where to look for them and as we drove to a spot where I'd met Ovamwila women before we saw our first Ovamwila lady carrying goods to sell at the market.  All of us were gobsmacked.  Even in her advancing age she was still so proud and beautiful. Meeting your first Ovamwila person is always fascinating and this lovely old lady kindly allowed us to photograph her, even in the less than ideal situation and harsh light.  We went deep into the market and we found them.   Our local guide had manage to organise a fantastic group of beautiful Ovamwila women to photograph.  As the leader of the trip I wondered where to go and then I remembered some colourful buildings I'd seen under construction not far from where we met them so I thought that their stunning decorations would be lovely against these different coloured backdrops and they were.  We spent almost two hours with these incredible women and girls photographing them in the most amazing artistic backdrops.  I felt particularly drawn to one of them who was extremely tall like me and one of my guests very kindly photographed us together – I'd found my Ovamwila Mama!!!!
What a fantastic introduction to this incredibly beautiful culture!
Over the course of the next few days we spent time in Ovamwila villages and markets for the most part, all while we were camped out close to a fascinating old monastery that was sitting in a tall, established forest area.  It was next to a little school that had been built by Carlos Estermann, the grandfather of anthropology in Angola and a man who was responsible for building a great many schools across Angola during his life.
We had a couple of wonderful highlights with the Ovamwila people in southern Angola.  The first of them was a serendipitous shoot we enjoyed with a group of Ovamwila women who we collected from a market and drove out into the countryside with to get away from the crowds.  Over the course of an afternoon we wandered around with these beautiful women photographing them in their local sorghum fields, on stretches of open grasses in flower, at the base of ancient trees and finally on a kopje that was crowned by another tree in a remote patch of countryside.  The final shoot we had with these amazing women was probably one of the best we had on the trip as they were framed by their beautiful surroundings in incredible light for photography.  What an amazing afternoon.
During our time in the Ovamwila area we also went to visit local Mwilas in their pretty kraals hidden in the bush.  We had another amazing afternoon with a Ovamwila family we'd met in their own kraal.  It was here that we met one of the happiest children of the trip – a little girl who never seemed to stop smiling!!!!
On our final morning at camp a few of us wandered off to the monastery to have a look around.  Built by the Portuguese when they colonised Angola this amazing old building was now only being used partially as a place for disaffected youth to get a schooling and also as a place for visiting religious guests.  We walked around looking at the crumbling facades that spoke of this complex's past.  We found a rose bush that had withstood so much in its life, a former grapevine, well, vegetable patch and courtyard.  As we wandered about, one of the young men living in the monastery invited us inside for a look around.  We were all enthralled to see so many things that were remaining from the time the Portuguese left, including some beautiful antique furniture and interior items.  From the monastic accommodation we were then shown the main cathedral.  What an incredible and lucky chance to go inside.  While we were there we found the old church organ, ornate chandeliers, an elaborately painted Portuguese tile mural, some quirky religious artworks and the old wooden pews which were all stacked at one end of the main hall.  How amazing to see such a beautiful place not being used by anyone.  Instead we were fascinated to discover that the local people of the monastery opted to go to church in the forest next to the cathedral rather than the cathedral itself.
Angola has many mysteries.  I've always found it a source of great learning.  Even as you drive around the towns looking at all of the old Portuguese colonial buildings, it is easy to imagine how Angola would have been a thriving colonial outpost once.  The buildings there were constructed often at great expense and this is reflected in the quality of the building facades you see while travelling.  
Ovahanda (Nyaneke)

The Ovahanda people of Angola have a culture that may disappear in my lifetime.  As an ethnographically separate group to the larger Herero cluster (that includes Ovakuvale, Ovahakaona, Ovandimba and Ovamwila people), the entire Ovahanda culture is only being kept alive by a group of jolly women who live in Southern Angola.  To a casual observer they can often be confused with Ovamwila women except their multi-stranded Vilanda necklaces are fashioned out of white beads.  In older days these were made from mother-of-pearl but now they are simply made from wooden beads painted white. 
The Ovahanda men gave up their traditional dress during the time that Angola was colonised by the Portuguese. Only these women and scarcely few younger women still wear their traditional beaded crowns, their hair in Nambolonga braids and the thick Amenjitunga beaded belts. 
In the market I visited in 2018 we found five women including one I had met back then who still remembered me from my last visit.  We spent some time with these wonderful women taking photos and we even met one of their husbands who dropped in to our photo session towards the end.  I think he wondered what all the fuss was about but then suddenly asked if I would mind photographing him with his wife and I said "Sure!".  As I did so, he actually grabbed her left breast which made us all laugh and he just proved that naughty guys are everywhere.
As we packed up to leave I found myself surrounded by these women who all hugged me like an old friend.  I didn't really want to go but we had to return to Lubango in time to get our PCR tests done so we were a little restricted by time.  
That night we enjoyed a delicious dinner of Oryx at a new local restaurant.
Serra De Leba
We needed a couple of days to wait for our PCR results to clear so the next morning we drove out across the agricultural plains of the Leba Plateau before plunging over the spectacular edge of the Leba mountains and driving down the zig-zag Serra De Leba Pass.  Stopping for photographs at the top all of us took in the jaw dropping mountain scenery before our descent. This beautiful road rivals any that have been constructed in a similar fashion in Europe but it features a number of colourful street art murals done by talented Angolan artists.  We stopped to photograph these also as some of them depicted the cultures of the people we had met on the trip.
As the pass road entered the coastal plain out to Moçamedes we found ourselves back in the area of Kuvale people so we stopped once again to photograph some beautiful Kuvale women and girls on the roadside before checking in at our beach lodge in time for lunch and a small break.
The World's Largest Welwitschias
That afternoon we returned southward to visit the world's largest Welwitschia plants.  I had heard about these for years and I'd always wanted to see them but the guides on my original trip had no knowledge of their whereabouts.  How incredible to finally see these on my trip this year. 
Driving along one of Angola's ancient ephemeral rivers we found them.  After seeing so many tiny ones already on the trip and seeing countless smaller Welwitschia plants in neighbouring Namibia, I was completely floored when we visited these.  The largest one of them was half the size of our car!!!!
We spent way more time than I thought we would exploring these ancient plants who had stood the test of time in Angola, having born witness to climate variations, numerous visits by people, civil war and so much history.  Even though my trip was focussed on people we were all so fascinated by these gigantic desert denizens.
The largest Welwitschia we found had a 'trunk' that had split in five and each section had filled with sand.  To get an idea of its scale our expert guide parked our vehicle next to it and I flew my drone over it  to fully understand its size.
There is nowhere else on earth that Welwitschia's grow to this size and we all found ourselves lingering for longer than we thought we would taking photographs.
Colinas of Curoca
After leaving the Welwitschias we drove into the spectacular Colinas of Curoca.  We actually toured these on our way south but we really only stopped at a lookout over them to take photos.  That short stop didn't really do them justice so our second visit allowed us to explore the multi-layered sandstone and conglomerate canyons of Curoca as the sun was setting and their beautiful red and yellow colours intensified.  Exploring rock pillars and grottos both by car and on foot we managed to take some beautiful landscape images to add to our portfolio of the trip.  We played with sun bursts, shadows and contrasts until time began to run out for our journey back to Moçamedes.
I had fully planned to enjoy sundowner drinks on the coast to celebrate our final night of the trip but the ubiquitous coastal fog that characterises the Skeleton Coast of Namibia and Angola had rolled in, blocking out our final Angolan sunset!  What a shame!  Still it was wonderful to enjoy a celebratory drink to the sounds of the Atlantic waves washing the shore of southern Angola.
Angola's Remote Kwepe Fishing Villages
As our flight the next day wasn't due to leave until the afternoon, we drove south from Moçamedes to visit two isolated fishing villages and their neighbouring saltworks.  I had visited these on my first trip and even back then I loved them so much that I went twice.  
Driving over the sandy roads at the base of a rugged coastal escarpment is an adventure in itself but once we arrived we found lines of fishermen hauling in heavy nets filled with fish. The Kwepe people of this region have fished these waters for generations and it is hard to imagine how they can actually eek out an existence in this desert landscape.  Despite the harshness they are so incredibly friendly and we met some wonderful people as we wandered around these remote villages taking photos.  We photographed the way they dried fish on large racks in the sun and the way they fashioned tiny boats out of fibreglass flotsam. Of course the usual fishing pirogues used by the fisherfolk are made from wood and painted in bright colours, but these smaller craft were a testomony to the resourcefulness of Kwepe people to fish using the materials they had available to them. Their ramshackle huts are constructed from palm frond matting and driftwood, lending the whole scene a traditional air that is quickly disappearing from coastlines right around Africa. 
I'm always impressed by the way that people who have so little are so happy with their lives as they are and the Kwepe people of these villages were a true testimony to that.
As we reluctantly started on our way back north we saw some children playing sand surfing on the local dunes with stuff they had found.  Watching them reminded me of my own childhood growing up on a fishing trawler in Australia where I too played on dunes with trays, cool box lids and old tyres.  
Our last stop in these villages was a traditional salt works where we found lines of men washing water over the pans to feed the slowly drying salt.  A brisk wind had come up by then so one of my guests went and took photos on foot while I flew my drone up over their workplaces, in some very trying flying conditions, to get photos.
I've always loved salt works from the air, especially in Africa where their colours and shapes can be totally mesmerising.  To me they look more like an artist's palette than something on the ground.  Since I was the only drone flyer on this trip I made sure my guests got copies of my photos as some of them had planned to do books from their expedition with me and I was the only person capable of getting this style of shot.  It certainly was magical to see this harsh, barren place from the sky and an incredible way to end our time in southern Angola.
We finally drove back to Lubango and said goodbye to our incredible team at the airport before we boarded our flight to Luanda.  It was such a wildly beautiful and fascinating journey that we all felt sad about it ending!
Luanda
Given the travel disruption of the pandemic we suggested to our Angola guests that they should allow a day free in the city at the end of the trip just in case flight connections ran late or early.  It was wise to allow a little time and the extra day gave us all a chance for some last minute sightseeing and enjoyment of Angola before we returned home.
Arriving into Luanda from Lubango we were all a bit exhausted from the long day so we retired early and then slept in the following morning.
Museu Nacional de Antropologia
I decided to organise some ground transport spontaneously and our first stop was the stunning Ethnographic Museum of Angola.  Visiting here seemed to fit well with our trip.  Not only was it located in a beautiful Portuguese colonial building but it had been thoughtfully laid out to feature tribal motif panels on numerous walls and some fantastic displays of traditional masks hung on walls painted with murals.  It was really beautiful, inspiring and had us all talking for quite some time after we left.
Museu Nacional de Escravatura (Angolan Museum of Slavery)
We dropped by some fantastic street art near to a colonial cathedral for photography before heading over to the somewhat confronting Museu Nacional de Escravatura (Angolan Museum of Slavery).  
Situated right on the coast of Luanda, at a gateway to where Angolan slave traders would have shipped people to the Americas, this old whitewashed building was filled with information, photos and murals depicting the prominent role that Angola played in this tragic industry.  While only a small museum it was definitely worth a visit to understand this period of Angolan history and how Angolan culture was transported to other countries like Brazil.
Fresh fish for our final lunch
Our driver that I found didn't really speak a lot of English but between online translators and my own ability to get around foreign countries, I asked about where we could eat some really good local seafood for lunch.  He understood and drove us back into the city where we visited possibly one of the most outstanding local restaurants of the trip.  A place that would normally be filled to the edges at the weekend but was surprisingly quiet as we arrived late, we all sat down to enjoy a fantastic mid-afternoon lunch of freshly fried fish with local cold beer.  It was rustic, you could smell the sea and we were the only non-local people there.  For a final meal of the trip before we all parted company it was absolutely perfect.
I've always said that I am happiest when I get the chance to show my guests some truly unique and memorable things on their trips with me and this expedition in Angola really was outstanding!  We not only had a fantastic group of people who have since become friends, we travelled with a highly organised and expert team who helped me to not only show my guests a side of Angola rarely seen by others but who shared so many laughs with us along the way.  Our memory cards and experiences were full!
We are very much looking forward to returning to Angola in 2024.  If you would like to join our trip please get in touch.
---