Wednesday 28th February – Tuesday 12th March 2024

Leaders: Inger Vandyke and Yousuf Tushar

14 Days
Group Size Limit 7
Saturday 1st March – Friday 14th March 2025

Leader: Yousuf Tushar

14 Days
Group Size Limit 7
BANGLADESH: CULTURAL PHOTOGRAPHY TOURS WITH WILD IMAGES
Bangladesh, the emerald of South Asia, is one of the world's most intriguing and beautiful countries.  It is a world of friendly people, rich cultures, vibrant festivals, ancient traditions, bustling streets and industries that are toiled by hand in the same way they have been for centuries
Wild Images is excited to announce its inaugural photo tour to this incredible destination.
Imagine a world of colourful women sitting in the middle of a million chillies, sorting them by hand.  A world where local fishermen head to sea in moon shaped boats or catch fish using 'pet' otters.  A world where children play in between gargantuan lines of tie dyed cloth, huge stores of betel nuts and among thousands of drying fish.
This is Bangladesh, one of the world's most fascinating street and people photography destinations.
We have teamed up with one of the leading photography guides in the country, Yousef Tushar, whose work is internationally acclaimed. Joining him is Wild Images leader Inger Vandyke whose humanitarian photography has been showcased globally.  Between them this tour will be a joyous experience filled with laughter, light and colour.  With Inger's creative attention to detail and Yousuf's superior knowledge of our shooting locations, you will learn from both photographers in a some of Bangladesh's most fascinating locations including the famous ship breakers, brick makers, otter fishermen, stone miners and chilli harvesters in this must see destination.  This is a tour suited to all photographers, from beginners to professionals, who truly want to capture the soul and beauty of Bangladesh through a series of spontaneous and laid back situations combined with carefully curated, private photo shoots.
The Ship Breakers
The ship yards of Bangladesh are where ships go to die.  Each day over 200,000 people head to these famous ship yards to work breaking ships down, salvaging metal and disposing of what cannot be recycled.  It is a frenetic place of welding, cutting and carrying by hand.
Bangladesh is the largest centre for breaking ships in the world.  Around a decade ago, the country was responsible for breaking down over 150 large freight ships and recycling their components by hand.  With the ever growing increase in shipping trade, this number has now increased exponentially and now it supplies over half of the country's demand for steel.
We will make two visits to these famous shipyards, exploring them on foot and also by boat. We will seek out people dismantling some of the world's largest ships and photograph them from permitted positions of safety, as they go about their daily work in this labyrinth of ship skeletons.
Dhaka
During our excursions in Dhaka we will experience street life in the city's oldest quarter doing street photography.  This incredible corner of Dhaka is a beating heart of the city, filled with colourful cycle rickshaws, street vendors, markets and some of Dhaka's most iconic colonial buildings.  It is the sort of place you could return to again and again and come away with completely different images.  During our time in Bangladesh's capital we will also spend a morning at the Old Dhaka riverside, where thousands of people cross the river each day in over 3000 small traditional boats.  Many of these boats are beautifully handcrafted out of timber and the local people tend to moor them up in flower-like formations, turning them into incredible photography subjects.  Of course, the friendly Bengali people will be a huge feature of our walks through some of Dhaka's most photogenic quarters.
During our time in Dhaka we will enjoy a photo shoot at one of the city's most busy train stations.  We will wander the platforms taking portraits in train windows and photographing  people on their daily commute.  From footbridges over the tracks we may get to photograph people riding on the roofs of trains as they come and go from the station.
On our final day of the tour we will visit the country's largest chicken market for photography.  Here, thousands of chickens are sold each day from cone-shaped, hand made nets.  We will photograph the chicken sellers within the market and also those who walk the alleyways carrying baskets of chickens on their heads as they go about their daily trade.
A Life of Colour
We will visit the largest tie dying fabric centre in all of Bangladesh, a place where workers dye fabrics by hand and spread them on the ground or on racks to dry in the baking sun.  This riot of colour changes every day and we will spend some time creating images of the workers of the cloth while exploring lines and composition in photography.
Our tour is timed to coincide with the peak season for harvesting many different products including chillis, rice, betel nuts and other produce.  We will visit some extraordinary centres where brightly clothed women sort through millions of red chillies, where children help to carry baskets of betel nuts and where rice workers ensure that their produce is lined out to dry each day.
Stone Miners and Brick Makers
Perhaps some of the most confronting work sites we will visit in Bangladesh will be traditional stone and coal mines.  In these sites over 20,000 people work each day to winnow, sort, wash, carry and load rocks and coal in an industry that dates back hundreds of years.
In a similar fashion, Bangladesh also has large plants for manufacturing bricks by hand.  Unlike elsewhere in the world where brick manufacturing is mechanised, in Bangladesh people form bricks by hand, dry them in the sun and then kiln fire them before taking them to storage areas to be sold. During our visit to a brick making plant we will be able to photograph workers carrying brick sand on their heads and toiling in the dust.
A Rich Tradition of Fishing
Bangladesh is where the largest river in Asia, the Ganges, pulses life through a myriad of tributaries braiding the country with finger-like waterways.  These waters eventually end up in the Bay of Bengal where fishermen take to the sea in vibrant moon boats to fish near one of the world's longest sea beaches.  It is here we will stay until sunset to watch fishermen dragging their boats ashore, mending nets, untangling their catch and then drying fish on huge racks, before it is sold.
In the tributaries we will spend a morning with the world's only Otter fishermen, who ply the waters with their habituated otters that they have trained to catch fish for them in the rivers. This fascinating tradition dates back to the 6th century and is handed down through generations. There are only around 300 otter fishermen left in Bangladesh, yet around 2000 people depend on otter fishing for their livelihoods. As younger people opt to get an education rather than fish, the numbers of fishermen utilising otters to catch fish is dwindling rapidly so our tour is a unique chance to photograph this unique relationship between man and otter before it disappears forever.
Food For Life
The process of feeding one of Asia's most populated countries is fascinating and during our tour we will visit traditional makers of yoghurt and a number of markets selling poultry and vegetables.  Home to thousands of small sellers who trade in everything, Bangladesh's markets are a riot of colour and activity.
We will visit a large floating market for vegetables and street markets that trade in other foods and wares.
During our time exploring the various food production areas of Bangladesh, we will meet with groups of people who keep large herds of buffalos and flocks of ducks.  Combining photography on foot and with drones, we will spend time with these amazing farmers as they care for their animals, bathing them and feeding them.
An Aerial and Eye Level Odyssey
For the first time Wild Images is offering a photography tour where there will be several spectacular possibilities for drone photography.
Street and drone flyers are welcome here and we will work closely alongside you to create a portfolio of aerial and street images that encapsulate the beauty of our photographic locations.  Without a drone your ability to capture 'aerial' type images is still possible as we find vantage points from bridges and buildings to gain unique 'birds eye view' perspectives on our shooting locations.
Join us on this immersive, imaginary photo tour through one of South Asia's most mesmerising countries.
Why visit Bangladesh with Wild Images
There are already a few companies offering tours in Bangladesh.  Most of these tend to be straight street photography trips where guests take their chances at the scenes they are presented with. Photography in places like Bangladesh is a challenge we've overcome by working with an unrivalled level of expertise on the ground.
Our itinerary has been timed to run in the peak season of harvest for red chillies and other produce.  We have also timed our morning and afternoon shoots to ensure you are in the best locations for photography each day.
We have carefully crafted our itinerary to offer a truly unique, insider perspective of some of Asia's most industrious work places. Through a series of private, curated shoots you will capture an intimate portfolio of images that encapsulates the life and colour of Bangladesh like few others can.
Combine this with spontaneous street shoots, portrait and drone photography opportunities and we hope to take you on a fascinating, once in a lifetime, journey to Bangladesh.
Accommodation & Road Transport
The hotels/lodges used during our Bangladesh photography tour are almost all good tourist standard. Road transport is by small coach or minibus on mostly good quality bitumen and dirt roads.
Walking
The walking effort during our Bangladesh photography tour is mostly easy.
Climate
Daytime temperatures in Bangladesh will be hot, humid and sunny.
Photographic Equipment
This tour is largely centred around street photography and is best suited to smaller lenses including smaller primes, zooms, wide angle lenses, bridge cameras and even phones.
During our attendance at large gatherings of people and also when we visit some communities, you may wish to have a larger zoom similar to a 100-400 or 200-600 with you.
Drones are welcome on this tour.
If you have other questions about what equipment you ought to bring, please contact us.
Photographic Highlights
Create a stunning portfolio of images through spontaneous street photography and carefully curated private shoots
A visually spectacular photographic odyssey combining portraits, street and drone photography
Visit Bangladesh's world famous ship breakers of Bangladesh by boat and on foot
Explore the spectacular colours of Bangladesh's annual chilli, rice, algae and betel nut harvests
Experience life with the Otter fishermen in the wilderness of the Sundarbans Street photography in Dhaka's oldest quarter
Photograph thousands of people crossing the river at the Old Dhaka riverfront
Enjoy the colours of the country's largest fabric tie dying factory
Sunset photography of the beautiful moon fishing boats on one of the world's longest beaches
Explore Bangladesh's largest stone mine and brick making factories
Visit large duck and buffalo breeders to photograph people with their animals
Dawn photography at a large garbage area where people work amongst the smoke and birds to collect rubbish for recycling
Wander the platforms of a vibrant Bangladeshi train station photographing people and street scenes
Visit bustling street and floating markets where traders ply their wares of vegetables, livestock and other goods
Share laughs while learning photography with two internationally renown street and portrait photographers
OUTLINE ITINERARY
Day 1: Arrive in Dhaka, street photography in the old quarter before a welcome dinner
Day 2: Drive to the Old Dhaka riverside for photographing people crossing the river and first photography session with the ship breakers
Day 3: After breakfast visit the tie dying and then the rest of the day photographing rice workers and rice harvesting factories
Day 4: Early shoot at the floating vegetable market before we visit some buffalo and duck breeders tending to their animals for the afternoon
Day 5: Sunrise photography at a large garbage field where we will explore men, women & children collecting junk to recycle. Our second shoot of the day will be at a large stone mine before we explore villages and a local market
Day 6: Morning photography at the brick makers then drive to south city
Day 7: Explore the ship breakers by boat before driving to the longest sea beach to photograph local fishermen
Day 8: Morning visit to the country's largest Betel Nut market before returning to the beach to photograph the moon boats and fishermen until sunset
Day 9: Early morning visit to the fish drying area where over 5000 families work every day to dry fish. Afternoon flight to Dhaka and, if time allows, some more street photography in the Old Quarter
Day 10: Morning visit to a pottery village to photograph traditional potter working by hand to make clay pots, followed by street photography in villages
Day 11: Pre-dawn start to meet families of traditional otter fishermen and photograph them fishing, before returning to Dhaka with a stop to fly over the spectacular formations of the Padma River
Day 12: Drive to North Bengal districts visiting a coal port where labourers carry coal to ships by hand, then an afternoon of photography at a yoghurt production facility
Day 13: Early morning visit to a local vegetable market before spending the rest of the day photographing the annual chilli harvest
Day 14: Dawn visit to Dhaka's lively poultry chicken market and one of the city's bustling train stations before check out, final lunch and transfer to the international airport where our tour will end
---
To see a larger map, click on the square-like 'enlarge' icon in the upper right of the map box.
To see (or hide) the 'map legend', click on the icon with an arrow in the upper left of the map box.
To change to a satellite view, which is great for seeing the physical terrain (and for seeing really fine details by repetitive use of the + button), click on the square 'map view' icon in the lower left corner of the 'map legend'.
PRICE INFORMATION
Wild Images Inclusions: Our tour prices include surface transportation, one internal flight, accommodations, all village donations and photography fees, meals and entrance fees.
Our tour prices also include all tips for our driver/naturalist guide and accommodation/restaurant staff.
Deposit: 20% of the total tour price. Our office will let you know what deposit amount is due, in order to confirm your booking, following receipt of your online booking form.
TO BOOK THIS TOUR: Click here (you will need the tour dates)
---
2024:
provisional $6390, £4820, €5750, AUD9460. Dhaka/Dhaka
2025:
provisional $6390, £4820, €5750, AUD9460. Dhaka/Dhaka
Single Supplement: 2024:
$590, £440, €530, AUD880.
Single Supplement: 2025:
$590, £440, €530, AUD880.
If you are travelling alone, the single supplement will not apply if you are willing to share a room and there is a room-mate of the same sex available.
This tour is priced in US Dollars. Amounts shown in other currencies are indicative.
Air Travel To & From The Tour: Our in-house IATA ticket agency will be pleased to arrange your air travel on request, or you may arrange this yourself if you prefer.
BANGLADESH: THE SHIP BREAKERS AND MORE PHOTOGRAPHY TOUR: DETAILED ITINERARY
Bangladesh: Cultural Photography Tour Day 1
Our tour begins with a morning arrival in Dhaka.  After settling in to our hotel and enjoying lunch, we will take our first visit to one of Dhaka's oldest quarters where we will enjoy street photography of people, cycle rickshaws and shops.  This will be followed by our welcome dinner to the tour.
Bangladesh: Cultural Photography Tour Day 2
An early morning start at the old Dhaka riverside which sees thousands of people crossing the river in traditional boats every day. These beautiful wooden boats can sometimes be moored up to look like a flower so we will spend time here photographing life on the river as it unfolds.  After lunch nearby we will spend the rest of the day exploring the incredible ship breakers of Bangladesh on foot.  Over 200,000 people live and work in this area, which is the largest ship yard in Asia.  We will visit the slum where they live and explore the labyrinth of ship skeletons photographing people as they work to dismantle ships and create new ones from the recovered metal and parts.
Bangladesh: Cultural Photography Tour Day 3
At sunrise today we will leave for the north eastern part of Bangladesh. On our journey north we will stop at the country's largest tie dying factory for fabric where we will see huge reams of fabric being dyed by hand and laid out in the sun to dry.
Our afternoon shoot will be at a large courtyard used by people for drying rice, where will be exploring the colours, lines and beauty of this traditional practice.
Bangladesh: Cultural Photography Tour Day 4
Today we will enjoy an early morning photo visit to a beautiful floating vegetable market to photograph the myriad of traders plying a river by boat and paddle to sell their produce.  We will then visit communities of local duck and buffalo breeders to photograph them tending to their animals.
Bangladesh: Cultural Photography Tour Day 5
This morning we will head to a large garbage dump for sunrise photography of men, women & children collecting junk to recycle. Our second shoot of the day will be at a large stone mine before we explore villages and a local market
Bangladesh: Cultural Photography Tour Day 6
For most of this morning we will be photographing the workers of a gargantuan brick making factory where we will explore the entire process of making bricks.  Images we may capture here include men carrying materials on their heads, spilling brick dust as they go and then creating bricks by hand using traditional methods.  Lingering here for as long as the light allows, we will leave for Dhaka in the afternoon.
Bangladesh: Cultural Photography Tour Day 7
Today we return to the incredible ship breakers, only this time we will visit by boat so we can get a different perspective on these famous workers. The rest of the day will be spent exploring the fishing industry on one of the world's longest sand beaches at Cox's Bazaar.  Staying until sunset we will photograph the beautiful and brightly coloured moon boats, fishing on the sea beach, fishermen making and repairing nets, local people dragging their boats in from the sea and children playing.
Bangladesh: Cultural Photography Tour Day 8
Our early morning photography will take place in the largest betel nut market in Bangladesh.  Here we will see hundreds of traders carrying and selling betel nuts in traditional baskets.
This afternoon we will return to the beach for more photography of the moon boats, staying until sunset.
Bangladesh: Cultural Photography Tour Day 9
Another early start to visit the largest fish drying factory in Bangladesh.  This incredible place is adorned with hundreds of racks of fish that will dry in the sun.  We will photograph the fish workers going about their daily chores.
In the afternoon we will take a short flight from South Bay back to Dhaka were, if time permits, we will visit a bustling Bangladeshi train station and wander the platforms for photography of passenger traffic, people in train windows and others carrying goods to and from the trains until sunset.
Bangladesh: Cultural Photography Tour Day 10
Today we will drive to a pottery village to photograph ceramic workers making pots by hand before allowing them to dry in the sun and then having them fired.
The rest of our day will be spent on the road doing street photography in local villages.
Bangladesh: Cultural Photography Tour Day 11
A pre-dawn start awaits us as we drive out to visit the Otter Fishermen in the remote Sundarban region.  These fishermen use 'pet' otters to help them catch fish in a thousand year old tradition of this remote region of Bangladesh.  The otters help the fishermen lure fish into their nets after a period of training and the skill of doing this is one that is handed from father to son over generations.
In the afternoon we will drive back to Dhaka, stopping at the Padma River for possible drone and land photography of the river flats.
Bangladesh: Cultural Photography Tour Day 12
Deep in north eastern Bangladesh lies a huge stone mine.  We will stop to photograph over 3000 daily stone workers as they carry coal, bricks and sand on their heads between the land and a variety of boats used to transport their products.
In the afternoon we will visit a traditional yoghurt making factory.
Bangladesh: Cultural Photography Tour Day 13
At dawn today we will visit a bustling vegetable market as a precursor to our day spent photographing the stunning red chilli farms and drying areas.  Our tour will take place when the harvest of chillis is at its peak and we will explore colourful local women sorting through millions of red chillis, making lines of them to dry in a large courtyard.  At the end of the day we will return to Dhaka.
Bangladesh: Cultural Photography Tour Day 14
On our final morning of the tour we will visit a large poultry market to photography the vendors selling all manner of birds including chickens, ducks and turkeys.  Lunch is included before an afternoon or evening flight.  Your tour will end with your transfer to Dhaka airport.
---
---
---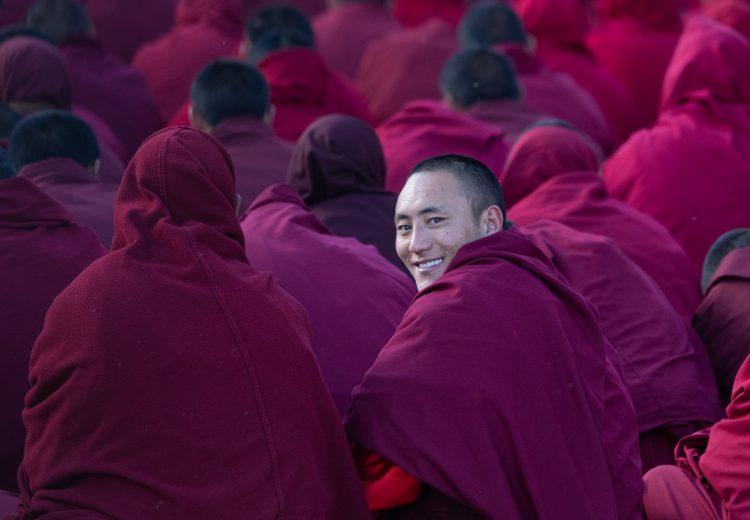 China (including Tibet)
July-August 2025
TIBETAN SICHUAN – The Litang Horse Festival and much more