Tuesday 25th April – Sunday 7th May 2023

Leaders: Julie-Anne Davies and a local guide

13 Days
Group Size Limit 5
INDIA: WOMEN OF LADAKH PHOTOGRAPHY TOURS WITH WILD IMAGES

Ladakh has long been more than just a state in India.  Geographically it is an extension of the Mount Kailash region of Central Tibet and its ethnography is strongly centred around Tibetan languages, culture, traditions and history, yet sprinkled in the cultures of Ladakh are some of the purest races of Aryan people in the world, Islamic and balti tribal people whose origins lie in northern Pakistan.
The Women of Ladakh photography tour was conceived by Wild Images leader Inger Vandyke after her work with the Snow Leopards in Ladakh over two consecutive seasons. While working with Snow Leopards Inger learned about the difficult lives of many women living in remote and isolated regions of Ladakh. She wanted to find a way to support Ladakhi women via photography so in 2017 she led the "Ladakh Women's Project" to create an ethnographic portrait of women living in this wild and historically fascinating corner of India.
The Women's Alliance of Ladakh
The Women of Ladakh tour will support the Women's Alliance of Ladakh by way of donation. Recent economic changes have had a profoundly marginalizing effect on the position of women in Ladakh. As men and young people flock to the city in search of jobs and schooling, women are left on their own to tend their farms. As a result their decision-making power has decreased while their workload has increased. The Alliance's charter is to:
To maintain respect for the ethical and spiritual values on which Ladakhi culture is based.
To promote development in harmony with the above values benefiting the entire community without harming the nature of future generations.
To encourage a respect for Ladakhi culture and to counter the embarrassment that many young people feel about Ladakhi food, dress, language, song and dance.
To highlight the importance of agriculture for the Ladakhi economy and to counter the notion that farming is an inferior occupation. Also to protect indigenous knowledge and seeds and warn against the dangers of cash cropping, chemical fertilizers, pesticides and hybridized seeds.
To maintain respect for local knowledge, crafts, and practical skills.
To affirm and support extended families and strong communities.
The women of the Alliance sometimes undertake extraordinary journeys on foot to visit some of Ladakh's most isolated hamlets and villages. On these journeys they assist local women with the set up of composting toilets, deliver organic seed stock, help to develop small business skills and sometimes they simply enjoy a shared cup of tea with some women who live without electricity or free flowing water into their homes.
Alongside the increasing difficulties that many Ladakhi women face, they are the main perpetuators of a rich tapestry of cultures over which they preside.   Their elaborate tribal costumes are unique in the Himalayas and these special photography tours aim to produce a snapshot of these rich cultures before they disappear from our world forever.
Traditional Ladakhi Dress
The traditional dress of Ladakh features an elaborate combination of semi-precious stones, animal furs, hand turned metal ornaments, sea shells, home spun wool and brocades. Ladakhi men wear a thick woollen Goncha with knee high boots and a top cap. The women's dress is called a Perak and consists of a spectacular hat of black lambskin that is dotted with semi precious stones and is shaped like a cobra's head which tapers to a point at the back. The elaborate decoration of a Perak is associated with the stature of the woman who is wearing it and more adornment symbolises higher stature. Traditionally, the number of front-to-back rows of turquoise signified the status of the wearer: nine rows for the queen of Leh, seven rows for the more modern aristocracy, five for the marvels, and three for the lower ranks. The jewels themselves are representative of the Ladakh deities, protecting and guiding the wearer through the dangerous human world. While once a commonplace form of dress, in modern Ladakhi society, the tradition of donning a Perak is now restricted to traditional weddings and special events. It is possible now to find more women wearing the less elaborate Tibi (or tiny bowler style hats), however, this too is a diminishing form of dress.
The Brokpa
Ladakh's dardic Brokpa, or Flower People, live in one of the few fertile valleys of this arid region inside Jammu and Kashmir. The Brokpas are completely different– physically, culturally, linguistically and socially – from the Tibeto-Burman inhabitants of most of Ladakh. For centuries, the Brokpas have been indulging in public kissing and wife-swapping without inhibitions. Their cultural exuberance is reflected in exquisite dresses and ornaments. Brokpa men wear a large woollen dress held at the waist over woollen trousers. The women don special woollen dresses and adorn themselves with shells, beads and silver jewellery. Goatskin capes complete the traditional dress. Both men and women wear unusual headdresses decorated with flowers, coins and seashells. According to popular belief, the Brokpas were part of the army of Alexander the Great and came to the region over two thousand years ago. The Brokpas reside in a total of five villages; however, tourists are allowed only in two of these – Dha and Hanu. Besides tourists, the villages also attract anthropologists and very small numbers of photographers. Aside from extremely small scale tourism their main source of income is through the sale of products from their well-tended vegetable gardens. The custom of marrying within the community has ensured the Brokpas have retained their distinctive high cheekbones, aquiline noses, fair complexions and pale eyes. It has, however, limited the population of Brokpas, and the community hardly numbers over 2000.
The Mountain Women of Ladakh
The Women of Ladakh tour takes place at a beautiful time of the apricot blossoms. Travelling throughout this region at the end of winter, it is possible that you will meet women as they tend to their fields at the start of spring, planting new trees, sewing new seed and ploughing. You will stay one night at a very traditional homestay which forms a part of the Himalayan Homestay Program that is designed to provide families living in isolated regions of Ladakh with a form of supplementary income during the winter. Nestled in a beautiful remote valley, you will join in the serving of yak butter tea while communing with a traditional family of Ladakhis who have lived in this home for more than 200 years.
The tour will start and end at the Grand Dragon hotel in Leh.  In between we will be living alongside the women of Ladakh in several small villages and our accommodation will vary from basic home stays to guest houses.
The trip will involve light trekking and transport by vehicle into some of the most fascinating ethnic corners of Ladakh where  we will meet women from rural Ladakh, the Brokpa tribal women, nomadic Changpa herders, distance school children at a boarding school in Leh and Tibetan Refugees.  During our encounters we will have the time and opportunity to do photography, play with children, learn crafts, agriculture, and hear the stories of women across Ladakh.
Chang Pa Nomads
The nomadic Chang Pa people of Ladakh's high altitude lakes are a gazetted group of tribal people in India who reside in the extremely remote Changthang region, near the border of India and Tibet.
As some of the most isolated people in India, the Chang  Pa nomads reside in traditional tents that they can move easily with their small livestock holdings when different regions become fertile enough to graze stock. They are traditional Ladakhi people, yet they physically resemble many of the nomadic people in western Tibet. Their tent homes, at first glance, appear to be quite basic, yet they are incredibly well insulated and warm enough to withstand the bitterly cold winters of the Changthang.
The Changthang is not only the traditional home of the Chang Pa, it also features the spectacular lakes of Tso Moriri (India's largest Himalayan lake) and Tso Kar. This wild, isolated region of India is home to diverse wildlife and it is here we may see our first Kiangs (or Tibetan wild asses), Hares, Cranes and other birds.   Both of these lakes sit at an altitude of around 4,500m or 14,800ft and they are surrounded by peaks up to 6500m in height.
The Monasteries of Ladakh
While the primary focus of this tour is photographing the women of Ladakh, we will also visit the stunning, hidden monastery town of Lamayuru and we will join the monks of Thiksey monastery in Leh for puja, or early morning prayers. Communing with novice monks in Ladakh is a joy and we will have the opportunity to watch them engage in their morning chants as they go through their journey to learn more about Buddhism. At each monastery we will spend time gazing at intricate murals, ancient Buddhist texts and walking the kora, or prayer circuit, to do photography.
Accommodation & Road Transport
All the accommodation is of a good standard. In Leh, we will enjoy the comforts of a four star hotel. In smaller villages of Ladakh, the accommodation can range from basic homestays with pit toilets that are shared, to basic guest houses and hotels. Road transport is by air-conditioned minibus
Walking
The walking effort is easy throughout.
Climate
The tour will take place at the end of the Ladakhi winter and temperatures will range from sub-zero in the late afternoon and night to between 0C and 10C during the day. 
Portrait and Travel Photography
Photographic Equipment
The Women of Ladakh tour focuses mainly on travel, landscape and portrait photography. If you are a DSLR photographer, we suggest you bring a wide angle lens and also a travel lens similar to the Canon 24-105 or 70-200 with you. Non DSLR photographers will also benefit a lot from this tour and you will be able to capture lovely images using a good quality bridge camera or even a cell phone in some instances.
Opportunities for wildlife photography will be limited but you may wish to bring a larger zoom lens in the event we see a herd of Kiangs in the high altitude lakes or mountain creatures such as Urial, Blue Sheep or Siberian Ibex.
Photographic Highlights
Numerous opportunities to photograph the people of Ladakh in traditional dress
Opportunities to photograph the stunning mountain scenery of Ladakh
Join in the celebration of puja, or early morning prayer, at Thiksey monastery near Leh
Commune with the novice monks of Lamayuru, a monastery hidden in a deep, eroded valley
A visit to the colourful local markets in Leh
A chance to give back to the women of Ladakh. The tour will support women living in rural and isolated regions of Ladakh via donation
OUTLINE ITINERARY
---
To see a larger map, click on the square-like 'enlarge' icon in the upper right of the map box.
To see (or hide) the 'map legend', click on the icon with an arrow in the upper left of the map box.
To change to a satellite view, which is great for seeing the physical terrain (and for seeing really fine details by repetitive use of the + button), click on the square 'map view' icon in the lower left corner of the 'map legend'.
PRICE INFORMATION
Wild Images Inclusions: Our tour prices include surface transportation, accommodations, meals and entrance fees.
Our tour prices also include all tips for local guides, drivers and accommodation/restaurant staff.  We also include payments to local people who are willing to be photographed.
Our tour prices also include a donation of US$300 per participant to a local NGO in Leh who assist women living in isolated rural areas across Ladakh.
Deposit: 20% of the total tour price. Our office will let you know what deposit amount is due, in order to confirm your booking, following receipt of your online booking form.
TO BOOK THIS TOUR: Click here (you will need the tour dates)
---
2023:
£4470, $5590, €5310, AUD7990. Leh/Leh.
Single Supplement: 2023:
£260, $330, €310, AUD470.
If you are travelling alone, the single supplement will not apply if you are willing to share a room and there is a room-mate of the same sex available.
This tour is priced in US Dollars. Amounts shown in other currencies are indicative.
Air Travel To & From The Tour: Our in-house IATA ticket agency will be pleased to arrange your air travel on request, or you may arrange this yourself if you prefer.
INDIA: WOMEN OF LADAKH PHOTOGRAPHY TOUR: DETAILED ITINERARY
Day 1
The first day of the tour is our arrival day in to Leh. Given the high altitude of Leh, we suggest that guests spend as much of the arrival day as possible resting and acclimatising to the mountains. Overnight will be at The Grand Dragon Hotel in Leh.
 Day 2
This morning we will rise early to enjoy puja (or early morning prayer) at the incredible monastery of Thiksey. We will try to arrive early enough to see the young monks singing to announce the start of prayer and assembling in the prayer hall. We will also spend a short time exploring the monastery, including a brief visit to the rooftop which enjoys an incredible view of the Indus Valley.
From Thiksey we will depart Leh and travel the spectacular route to the tiny mountain hamlet of Ulley. We will stop to enjoy tea and snacks for lunch at Nimoo and make stops to look at the remarkable confluence of the Indus and Shyok rivers, the ancient castle of Basgo and also, if time allows, to take photos of the mountain scenery on the winding road that leads to Ulley. Once we arrive at Ulley in the late afternoon, we will check in to a local homestay owned by Dolma and Norboo. This simple, yet warm and clean, homestay will be our first insight into rural Ladakhi life. Dolma and Norboo's home is also a small farm that has chickens, goats, Tso (cross bred cattle with yak) and sheep. From this small holding Dolma produces her own wool, she grows apricots and apples and she milks Tso each day. Their homestay operates as a guest house for Snow Leopard spotters during the winter and trekkers during the summer. In between they rely on the products of their farm to make a living and Dolma also makes lovely small wool Snow Leopards which she sells to raise funds for Snow Leopard conservation.
Day 3
After a morning walk around the mountain trails of Ulley where we might see a variety of birds and wildlife, we will leave Ulley for the tiny village of Temisgam. Situation at the base of the spectacular Tingmosgang Monastery, Temisgam is at the end of a small valley dotted with tiny traditional Ladakhi villages. After arriving at Temisgam we will visit Tingmosgang Monastery and then take a drive into a nearby valley hoping to see women or local nuns working in the fields at the start of spring. There are numerous opportunities here to also stop and photograph Tingmosgang from a distance so if the sunset is going to be spectacular, we will find a place to catch the last of the setting sun over this ancient monastery. Our accommodation will be at a local guest house.
Day 4
Today we will enjoy the first formal photography session of Ladakhi women wearing both the elaborate Perak and the more commonplace Tibi style dress of their culture. We will utilise one of the older charismatic buildings of the village for this photoshoot. It is three stories high and features traditional wooden windows, small doorways and a collection of ethnic rugs, furniture and crockery.
After the morning shoot, we will leave Temisgam for the incredible drive to Lamayuru. The road into Lamayuru meanders its way through a 'clay forest' of eroded landscapes that resemble a moonscape. Suddenly we will arrive at Lamayuru, hidden deep within one of these eroded valleys. We will spend the remaining hours here exploring the tiny village of Lamayuru before we return to our small hotel to watch the sun set over the monastery.
Day 5
We will enjoy a full day at Lamayuru starting with a sunrise landscape photography session to catch the first light over the village. From there we will visit the monastery and do a kora (prayer circuit) around it to spin prayer wheels and do photography. The monastery of Lamayuru is an incredible destination for photography. It crowns the village from its high perch and from the kora you can look over the roof tops of the local houses, observing their basic clay structure, the livestock and lives of Ladakhi families as they have lived for centuries. We will stop for lunch at a local guest house with a communal kitchen where you may see Ladakhi women making traditional noodles and dumplings for lunch.
Day 6
After a final sunrise photography session at Lamayuru, we will descend out of the mountains and drive along the Indus river to the remote villages of Dha and Hanu, the home of the incredible Aryan Brokpa people of the Indus Valley. We will check in to our hotel beside the river and spend our first afternoon exploring these two villages with their sophisticated agriculture, food storage, aqueducts and architecture. For centuries, the Brokpa people lived in these tiny villages, hidden away on the hillside and they developed a way of life that is quite elaborate in comparison to other ethnic communities across Ladakh. We will spend some time with the people of these villages, while our leaders will organise a photography session of the Brokpa for the following day.
Day 7
We will return to Dha Hanu for a formal photography shoot of Brokpa women in their traditional dress. This ancient culture is sometimes called "The Flower People of Ladakh" and the costumes worn by the Brokpa people for special ceremonies feature flowers, metal jewellery, cowrie shells, animal furs, semi precious stones and brass rings. It is incredibly beautiful and intricate attire to photograph. After a morning photography session we will return to our local hotel for lunch and a rest before exploring the Dha Hanu villages again in the afternoon for photography.
Day 8
Today we leave Dha Hanu and drive back along the Indus Valley, stopping at some ancient petroglyphs on the way to Takmachik. The tiny village of Takmachik sits on a hillside overlooking the Indus and from here we will take a walk around the village to photograph local people. If time allows we will also village a beautiful line of chortens that adorn the gateway to the village for sunset. We will stay overnight at a local homestay.
Day 9
This morning our final formal photography shoot for women in Perak will take place in and around Takmachik village and we will enjoy a morning doing photography around the main village street and side streets. After some refreshments we will make our way slowly back to Leh where we will enjoy a night at the Grand Dragon Hotel before the next leg of our journey to the high altitude lakes of Ladakh.
Days 10 and 11
After an early breakfast we will once again leave Leh and embark on the long drive into the high altitude region of the Changthang, near the border of India and Tibet. We will spend two nights in this spectacular region searching for and photographing the Changpa nomadic people. Based at a simple homestay we will drive around the roads between two spectacular lakes – Tso Moriri and Tso Kar, searching for nomadic families and photographing the stunning landscapes of the Changthang which features prayer sites, snow capped peaks and lake scenery. When we find the Changpa we will spend time with them learning about their lives through our translator on the tour and photograph their world of herding and camps in this beautiful region.
Day 12
This is a travel day from the Changthang back to Leh. Prior to our final farewell dinner at the Grand Dragon hotel we will enjoy a short meeting with the Women's Alliance of Ladakh to hand over the donation of the tour. This is a wonderful way to end the trip and meet the women of the Alliance whose work we support.
Day 13
Depart from Leh
---
Other Wild Images Tours for People Photography
---
Ethiopia
March 2023
OMO VALLEY: THE EXTRAORDINARY TRIBAL PEOPLE OF SOUTHERN ETHIOPIA
---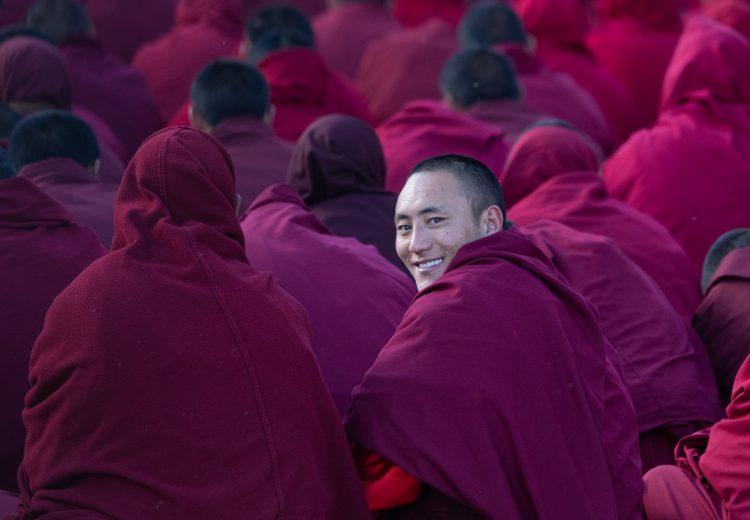 China (including Tibet)
July-August 2023
TIBETAN SICHUAN – The Litang Horse Festival and much more
---
Chad
September-October 2023
CHAD: SECRETS OF THE UNDISCOVERED SAHARA – The Gerewol Festival & The Ennedi Mountains
---
---
Mongolia
September 2024
EAGLE HUNTERS OF WESTERN MONGOLIA: Including the Altai Kazakh Eagle Festival at Sagsai
---
Mongolia
September-October 2024
MONGOLIA'S FORGOTTEN REINDEER HERDERS: The Tsaatan Nomads of Hovsgol