| Tour | Dates | Days | Group Size Limit |
| --- | --- | --- | --- |
| Japan: Cranes, Eagles, Owls, Swans & Snow Monkeys | Tuesday 5th February - Saturday 16th February 2019 | 12 | 10 |
| Arasaki Cranes Extension | Saturday 2nd February - Tuesday 5th February 2019 | 4 | 10 |
---
Photographic Highlights
The incomparable Japanese Macaques (a.k.a. Snow Monkeys) of Nagano
Amazing dancing Red-crowned (or Japanese) Cranes on Hokkaido
Up close and personal experiences with huge Steller's Sea-Eagles (as well as their smaller relative, the White-tailed Eagle) at the icy coastline around Rausu
A wonderful chance to photograph the world's largest owl, the Blakiston's Fish Owl
Whooper Swans amongst the snow and ice of a beautiful lake
The incredible concentrations of White-naped and Hooded Cranes at Arasaki, some at almost touching distance!
---
It is during the winter months that Japan really comes into its own, for then it plays host to some of the greatest wildlife spectacles on earth and this special wildlife photography tour provides the opportunity to experience the very best photography opportunities that Japan has to offer, including the beautiful Japanese Cranes dancing in the snows of Hokkaido, the famous 'Snow Monkeys' of Honshu, the huge Blakiston's Fish Owl, hordes of gigantic Steller's Sea Eagles and the wonderful Whooper Swans of Lake Kussharo.
Lying at the opposite end of the vast continent of Eurasia from the British Isles is the archipelago of islands that forms Japan. Westernized and yet profoundly Oriental, Japan remains an enigmatic land to westerners, few of whom know much about it beyond its shiny consumer exports. Stretching from the sub-tropics in the Ryukyus to the cool temperate latitudes in Hokkaido, these beautiful islands with their jagged and broken coastlines possess some of the most attractive scenery in eastern Asia.
A visit to upcountry Japan (the 'real' Japan) is an experience in itself and one that requires of the traveller a spirit of adventure and a willingness to adapt to new ways of doing things. Simple things like eating Japanese food, sleeping on futons and bathing in an 'ofuro' are very different from back home, but will be great fun if you are tolerant of cultural differences. The perceived difficulty of travelling around in a country where few people speak a foreign language of any kind is the main reason why only a few non-Japanese wildlife photographers have explored the islands. The reality is that a superb travel infrastructure, spotlessly clean accommodations, interesting food and friendly, helpful people make a wildlife photography tour of Japan a thoroughly enjoyable experience.
Our Japan photography tour extension to the southern island of Kyushu adds something extra to our tour that is absent from virtually all other wildlife photography itineraries in Japan, the chance to experience and photograph the Hooded and White-naped Cranes spectacle at Arasaki. Far less well-known and famous than the Japanese (or Red-crowned) Cranes of Hokkaido, this is just as impressive a sight, with well over 10,000 ultra-tame and approachable wild cranes present in just one small area!
Accommodation & Road Transport
The western-style or Japanese-style hotels are of good standard. For two nights at Rausu, and during the extension for two nights at Arasaki, we will be staying in Japanese-style guesthouses (minshuku) to enable us to be on the spot for the photography. They will be spotlessly clean and quite comfortable, but it should be appreciated minshuku are quite simple establishments with Japanese-style futons to sleep on rather than conventional beds. Thin partitions separate the 'rooms' and there will likely be two or three people per room (minshuku don't guarantee single rooms, but they will often let westerners ('gaijin' to the Japanese) have single occupancy if they are not busy. Bathroom facilities at minshuku are shared. Most visitors think staying at minshuku is an authentic Japanese experience that is well worth having while travelling in rural Japan, but in any event, if you want the best photographic opportunities, this has to be the way to go. Road transport is by minibus/passenger van and roads are good.
Walking
The walking effort during our Japan wildlife photography tour is easy throughout.
Climate
The weather tends to be rather variable in the parts of Japan we visit on our wildlife photography tours. It will be quite mild (i.e. merely cool) in Kyushu, but it will be cold in Honshu and it will be cold or very cold in Hokkaido. It may rain at times in the south, or snow in the north (where snow will be lying on the ground), but the weather is predominantly dry and sunny at this season.
Photographic Equipment
If you use a DSLR for wildlife photography you should bring telephotos (and converters) that will (with a full-frame body) cover the range 200-500mm or 600mm or more. You will also find a wide angle lens good for landscapes. There will be only limited opportunities to use a macro lens. If you bring a good quality bridge camera it will be best if it has an optical zoom of 18-20x or more, combined with a reasonable wide-angle at the other end of the zoom range. Be sure to bring plenty of spare battery power: cold weather can be an issue with batteries. If you would like to talk over suitable equipment, please contact our office. We will be happy to advise.
---
Other Wild Images photography tours featuring wildlife amidst snow and ice:
Antarctica, The Falklands & South Georgia
Prices are provisional
Tour Price: £4590, €4900, $5980, JPY651800 Tokyo/Tokyo.
Arasaki Cranes Extension: £1390, €1480, $1810, JPY197400.
Includes surface transportation, accommodations, meals and entrance fees. Tipping is not customary in Japan.
Also includes these flights: Tokyo-Kushiro-Tokyo, Tokyo-Kagoshima-Tokyo.
Kindly note that, to have the internal flights included at this price level, your international flights to and from Japan must be with a Oneworld alliance carrier so that you qualify for a Japan Airlines internal airpass. If you are obtaining your international flight tickets yourself you will need to liaise with our office to ensure that we have the qualifying flight details for issue of the airpass. You may, however, opt to pay the price difference applicable for using another international carrier if you wish.
Single Room Supplement: £360, €384, $468, JPY51100. Arasaki Cranes Extension: £70, €78, $91, JPY9950.
The main tour single room supplement excludes two nights at Rausu. The extension single room supplement excludes two nights at Arasaki.
Deposit: £550, €660, $770, JPY78000. Arasaki Cranes Extension: £150, €180, $210, JPY21000.
Base prices for this tour are in Japanese Yen. The exchange rates used are: £1 = Yen 142, €1 = Yen 133 and $1 = Yen 109.
Air Travel To & From The Tour: Our in-house IATA ticket agency will be pleased to arrange your air travel on request, or you may arrange this yourself if you prefer.
JAPAN: CRANES, EAGLES, OWLS, SWANS & SNOW MONKEYS: WILDLIFE PHOTOGRAPHY TOUR ITINERARY
Day 1
Our Japan wildlife photography tour begins this morning at Haneda Airport near Tokyo. We will then transfer to central Tokyo where we will board our train to Nagano, and then drive on to our accommodation at Jigokudani for a three nights stay.
Days 2-3
We will spend all of our time in and around the Jigokudani Yaen-Koen Wild Monkey Park. Although Jigokudani translates as Hell's Valley, it is anything but. In this season the land is largely snow-covered, and against a dramatic backdrop we will have great fun photographing the magical 'Snow Monkeys'. Made famous by numerous television documentaries and magazine articles, the Japanese Macaques (commonly referred to as 'Snow Monkeys') here are both bold and entertaining! With their thick winter coats covered in snow and ice, they squabble and chase each other over the rocky, snow-covered hillsides, perhaps pausing to climb up and play on an unattended tripod before dipping into their natural, thermally-heated 'hot tub' for a steamy soak! Up to a hundred or more macaques visit this incredibly scenic site and the whole experience of being in amongst these charismatic primates is quite exhilarating!
Needless to say, this is one of Japan's truly great wildlife photography spectacles and we can expect to take far too many images before settling down to photograph the more memorable and interesting 'snow monkey' behaviour.
Day 4
After a last opportunity for photography with the 'Snow Monkeys', we will return by train to Tokyo and take a flight to Kushiro on the northern island of Hokkaido for a three nights stay.
Days 5-6
Our main priority during our stay in the Kushiro region will be photographing the magnificent Red-crowned (or Japanese) Cranes, which in the winter months are concentrated in the complex of damp fields and marshlands to the north of Kushiro.
We shall begin our day at a river where many of the cranes roost, hoping it is cold enough to create ideal conditions for some truly memorable photography. As steam rises from the river, the cranes slowly wake up and begin bugling, the thick hoar frost on the riverside trees adding to the romantic scene as steam comes from their bills. Once the temperature creeps up, the cranes leave their roost and move off to feed, allowing for some flight shots.
Later in the morning a large flock, generally of over 100 birds (sometimes 200 or more), gathers at one of the places where they are regularly fed. At this season the Japanese or Red-crowned Cranes are dancing frequently, and as one pair begins its courtship dance the infection spreads through the flock like a wave until dozens of striking black and white birds are leaping into the air or throwing back their heads and bugling towards heaven. It is a thrilling spectacle, and as we photograph this wonder of nature we will truly appreciate why we have come all the way to this remote corner of Japan. This is definitely one of the world's greatest wildlife photography spectacles!
During the afternoons we will visit another feeding area which offers further fantastic opportunities for crane photography, and we may even see cranes fighting with the White-tailed Eagles which come down to snatch their food!
Day 7
After another session with the Red-crowned Cranes, we will drive further north to beautiful Lake Kussharo for an overnight stay at a small and pleasant Japanese guesthouse with western-style rooms. For wildlife photographers, the prime attraction here are the many Whooper Swans that migrate to Hokkaido, and especially Lake Kussharo, every autumn from their breeding areas in Siberia and Mongolia. Parts of the lake are kept ice-free by geothermal activity and the swans not only have only a limited expanse of open water to swim around in, but are also fed by visitors, something that has made them very tame and approachable.
The combination of ice and snow, and sometimes falling snow, as well as steam rising from the water in the early morning, makes for some wonderful wildlife photography opportunities. The birds can be captured on the water, or on the ice, or while flying in to land, and the warm pink glow around sunrise and sunset adds to the many possibilities. Northern Pintails are also here in numbers, adding to the photography interest. We will arrive at Kussharoi in time for several hours with the birds this afternoon.
Day 8
After spending the morning at Lake Kussharo, we will continue our journey through eastern Hokkaido to the small port town of Rausu, situated at the base of the Shiretoku peninsula on the northeast (Sea of Okhotsk) coast, for a four nights stay (two at a simple minshuku or Japanese-style guesthouse and two at a comfortable hotel complete with a heated outdoor ofuro or Japanese bath).
Days 9-11
During our time at Rausu we will have two main photographic objectives, namely the amazing sea-eagles and the awesome Blakiston's Fish Owls!
Although conditions vary from year to year (and indeed from week to week!), there is usually some sea-ice close to Rausu. Weather and ice conditions permitting, we will take a couple of boat trips out to the sea-ice for what has to be one of the most amazing adventures any wildlife photographer can participate in!
Setting off while it is still dark, we will soon be accompanied by hordes of gulls as we head over to the pack-ice on a boat laden with treats for our avian friends. Soon some bigger shapes appear, and as the sun rises we will be surrounded by big White-tailed Eagles and veritably enormous Steller's Sea-Eagles! Over the next few hours we will be totally awestruck, watching dozens of these giant eagles fighting over fish just a few metres away, with towering snow-covered peaks as a backdrop. With reasonable good fortune, we will get sunrise shots, action shots, flight shots and extreme close-ups of the eagles! It really is a once-in-a-lifetime experience!
The eagles are not the only wildlife around and we may also see some impressive Largha Seals hauled out on the ice. There will also be good chances for photography of Glaucous, Glaucous-winged and Slaty-backed Gulls at close quarters, and we may find some approachable ducks, including gorgeous Harlequin Ducks, in the harbour. (If there is no sea-ice in the area, the boats still go out, but then the eagles get fed on the harbour and sea walls instead.)
Time and weather permitting, we will also visit a feeding station for the eagles at Lake Furen where there are yet more chances to photograph both eagles, either sitting around at close range or squabbling over the feast.
For two of our nights at Rausu we will stay at a small minshuku (Japanese-style guesthouse) adjacent to a small river where the incredible Blakiston's Fish Owl comes to fish and where we should have opportunities to photograph this giant owl fishing at down to about 12 metres (roughly 40ft) range! The owners of the minshuku put out a few small fish for them at a floodlit pond, and it usually does not take too long before this huge owl puts in an appearance, gliding down to the edge of the pond, hopping into the water and grabbing fish! A pair of owls regularly come to the pond, sometimes with their young, and the birds often make several visits during the course of the night, making for some exhilarating photography.
Note that the weather conditions on the northeast coast of Hokkaido are rather variable in winter, with snow and/or fog at times, so we have allowed sufficient time in the area to allow for some inclement weather and still have time to achieve our goals. A short visit here is decidedly risky. If participants want a third boat trip, assuming ice and weather conditions are optimum for such outings, then we can arrange this on the spot for an additional charge (the trip costs around Yen 11,000 per person, subject to change).
Day 12
After a final opportunity to admire and photograph the wildlife wonders of Hokkaido (either around Rausu or by returning to the Japanese Cranes area, as deemed necessary), we will return to Kushiro airport and catch an evening flight to Tokyo (Haneda) airport, where our Japan winter wildlife photography tour comes to an end.
ARASAKI CRANES EXTENSION ITINERARY
Day 1
The Japan wildlife photography extension begins at Tokyo (Haneda) Airport with a morning flight to Kagoshima on the southern island of Kyushu. From here we will proceed to Arasaki for a two nights stay in a minshuku at the crane reserve. We will arrive in time for some initial exploration and crane photography this afternoon.
Day 2
The fallow rice paddies around Arasaki are the site of one of the largest winter gatherings of cranes in all Asia. Depending on the winter, up to 10,000 Hooded Cranes are to be found in the area, in addition to up to 3,500 superbly elegant White-naped Cranes, making for one of the world's greatest wildlife spectacles.
During our explorations in and around the reserve we shall enjoy some wonderful close-up photography encounters of the cranes, especially when large numbers gather directly outside the guesthouse in which we will be staying in the very heart of the reserve. Here they come to feed on the maize and fish put out for them by the owner, who is also the reserve warden. At this season there is constant activity as small groups of cranes, often still in family groups, bugle energetically or dance into the air. Others form flocks and fly off, trumpeting loudly as they circle upwards before moving away to feed in the surrounding rice fields. There are great opportunities for flight shots, including at sunrise and sunset, as well as amazing close-up photography opportunities and flock shots.
We will also be on the lookout for the odd wandering Common, Sandhill, Demoiselle or Siberian Crane amongst them, which may also be photographable, and there is also the opportunity to get great shots of Black Kites and various wetland bird species.
Day 3
After spending much of the day photographing the cranes and other birds of Arasaki, we will return to Kagoshima for an overnight stay at an hotel near the airport.
Day 4
This morning, after taking a flight from Kagoshima to Tokyo (Haneda) Airport, we meet up with those arriving for the main tour. (This is Day 1 of the main tour.)
Mark Beaman
Mark Beaman lives in the Forest of Bowland in Lancashire with his Australian partner and fellow photographer Inger Vandyke. He is Managing Director of Wild Images and its sister divisions Birdquest and Divequest.
After graduating from Cambridge University he led an ornithological expedition to the Annapurna region of Nepal and then spent several years studying seabirds in the Orkney and Shetland Islands and elsewhere while based at Aberdeen University. After leaving academia behind, he created Sunbird Holidays in 1978 and subsequently going on to found Birdquest in 1981 and subsequently Wild Images.
Mark has travelled to every continent, including Antarctica, to view and photograph wildlife and has a worldwide interest in every aspect of wildlife travel. The author of several books and many articles, Mark has witnessed at first hand many of the world's wildlife wonders, taking countless images along the way. He has pioneered wildlife expeditions to numerous parts of the world, especially in Asia, and is most at home in the last wildernesses of our shrinking planet.
With a wealth of experience under his belt (he has led more than 150 tours worldwide and is one of the world's top wildlife guides), Mark Beaman has the knowledge and experience to solve any problem, even when travelling in the back-of-beyond, and will competently guide you around the most amazing wildlife photography destinations our planet has to offer and get participants to exactly the right places and positions for great shots.
Mark recognizes that many of those travelling with Wild Images are already highly competent photographers, but for those who would appreciate some photographic tuition while on tour, he is always happy to assist and positively enjoys passing on his knowledge, whether it is a case of improving your images in-camera in the field or as regards improving your post-processing in Lightroom or Photoshop.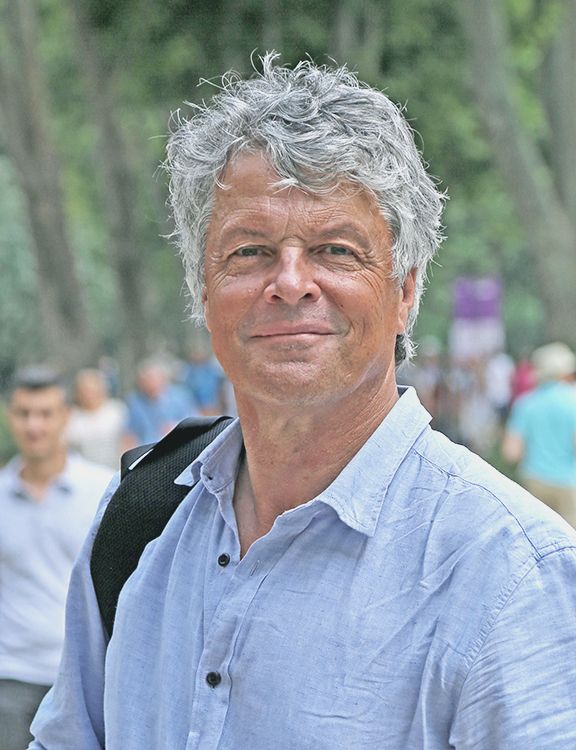 ---
Chikara Otani
Chikara Otani lives in Tokyo. Passionately interested in birds and other wildlife since his early years, he spent some time at school in England before setting off on travels which have taken him throughout the world in pursuit of wildlife.
He currently works as a freelance environmental consultant, specializing in raptors. He also has an in-depth knowledge of the flora and fauna of the entire Japanese archipelago. Having him present on our tours gives our Japan tours a great advantage. Otani-san not only ensures that tour logistics go smoothly, he is also a fascinating mine of information about Japanese life, culture and history that participants much appreciate.